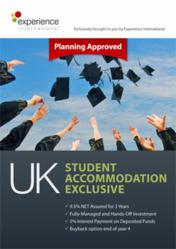 Student housing is top property asset, FT, November 2012
(PRWEB) December 07, 2012
Student property investment has emerged as a key asset class over the past few years and has seen a 145% increase in investment in the first 9 months of 2012, when compared to figures from the same period in 2011 (CBRE).
Student accommodation in the UK is considered a low-risk property investment, investors looking to enter this asset class should be aware that not all student developments offer the same returns with key factors such as the development pipeline of other student accommodation being built in the area, the closeness to Universities and current supply of accommodation are all factors which will affect future returns for individual student property investment opportunities.
Situated on the south western coast of the UK, Plymouth has been identified as a key location for this type of property investment.
Knight Frank's Plymouth Market Report on Student Accommodation (Feb 2012) stated that, 'The market in Plymouth for student accommodation is currently structurally undersupplied. The consented pipeline of proposed developments will do little to readdress the lack of student accommodation in Plymouth.'
The report also stated that, 'The University of Plymouth has a provision of 2,514 beds. This includes 753 beds which are owned and operated by a Private Group but allocated by the University. The accommodation is approximately 55% en-suite.'
What's more, as of November 2012, the Plymouth University Website states that, "At present there are university allocated places [rooms] for 60% of the first year students who apply for them."
With a shortage of en-suite rooms available for students, Plymouth has emerged as a strong location for student property investment.
New Student Accommodation Investment in Plymouth
With hundreds of student rooms sold to investors who are receiving a passive income from similar UK student projects, Experience Invest has just released a new high-yielding student housing investment just 0.5 Miles from Plymouth University.
"We've secured exclusivity on this exciting student accommodation investment which is located in Plymouth's City Centre and is just a short walk from the main University campus," Steven Worboys, MD of Experience Invest commented. "The structure of this investment will enable investors to receive 9.5% NET per annum, which is secured for 3 years, and there is also a buyback option in place."
How the investment works…
With planning already approved, this new, purpose-built development will contain fully-managed, en-suite rooms which will be rented to students. The rooms will be delivered fully-furnished to a high specification and will be ready to house the overspill of students unable to secure allocated rooms due to the lack of beds.
This investment opportunity is income generating from day 1 as interest is paid on clients' deposited funds and upon completion will deliver 9.5% Annual NET returns, assured for 3 years. There is also a buyback option from year 5.
For further details about this exclusive student property investment, contact Experience Invest on +44 (0) 207 321 5858 or visit http://www.experienceinvest.com to access the investment brochure.