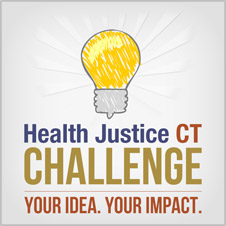 We hope that this challenge will not only address the widening gaps in health disparities in Connecticut, but also raise greater awareness about how disparities affect us all, stated Heang Tan, Health Justice CT Project Director"
Hartford, CT (PRWEB) December 06, 2012
Health Justice CT, an innovative movement designed to use social media as the foundation for raising awareness on the issue of racial and ethnic disparities in Connecticut, announces its 2nd Annual Health Justice CT Challenge. The Challenge is designed as a competition for individuals and organizations to creatively share their ideas and efforts to address health disparities in Connecticut. One applicant will be awarded $10,000 dollars cash prize to implement their project in a one year period or less. Applicants are invited to apply to the Health Justice CT Challenge at http://www.HealthJusticeCTChallenge.org no later than Friday, February 15, 2013 at 11:59pm EST.
The Health Justice CT Challenge is a two-step application process: a detailed online proposal and a short YouTube video (two minutes or less). Applicants will be asked to share their idea, plans, and capacity to implement their innovative project. Videos will be accepted in any form: including music video, PSA, short film, video blog, and interview. Applicants will be judged on the following criteria:
-Message - Answers the challenge questions in a creative, high quality presentation.
-Project Idea - Employs an innovative idea that is specific, attainable and relevant to addressing the social and racial factors that impact health and healthcare systems.
-Capacity - Demonstrates the capacity to implement the proposed idea in within a 12-month timeframe.
The top five applicants will be selected by a panel of local judges. The public will be invited to vote online for their favorite program proposal from February 25, 2013 to March 1, 2013.
"Low income neighborhoods and communities of color are often affected by health disparities due to the trouble of accessing proper healthcare," said Heang Tan, Health Justice CT Project Director. "We hope that this challenge will not only address the widening gaps in health disparities in Connecticut, but also raise greater awareness about how disparities affect us all."
For further information and to apply for the Health Justice CT challenge, please visit: http://www.HealthJusticeCTChallenge.org
About Health Justice CT:
Health Justice CT is an initiative designed to use social media channels as the foundation for creating a movement of Connecticut residents dedicated to working together to raise awareness about the issue of racial and ethnic disparities, find innovative solutions, and ultimately achieve health justice for everyone in Connecticut. The project is funded by the Connecticut Health Foundation (CT Health) and is being managed by the foundation's grantee, the Society for New Communications Research. To join the conversation, find us on Facebook (http://www.facebook.com/healthjusticect) and Twitter (http://www.twitter.com/healthjusticect).