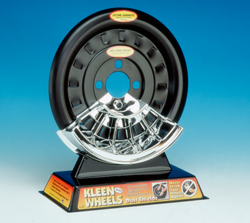 We are excited to be able to offer all of our new, unique and innovative products to customers around the world.
Dania Beach, FL (PRWEB) December 06, 2012
Kleen Wheels Corp., based in Dania Beach Florida, announced new lines of niche aftermarket auto accessories to help drivers get the most from their vehicles. The company introduced its first product, Kleen Wheels, to drivers in 1976. The product was a revolutionary brake dust shield designed to keep black brake dust off of rims and alloy wheels. Today Kleen Wheels are available to drivers of over a thousand makes and models. Since their opening they have introduced a plethora of new products to make car maintenance more efficient and support safe vehicle operation.
Kleen Wheels prides itself with the development of unique, new, practical and carefully engineered aftermarket auto accessories. Their top-notch team of dedicated marketing and manufacturing professionals bring innovation, practicality and workmanship to each product. New products that have been introduced recently include:

Kleen Wheels in Color, a new version of Kleen Wheels with the ability for customers to choose a unique color;
Quik-Chek, a one-size-fits-all 20-44 psi tire pressure indicator valve for cars, passenger trucks and motorcycles;
Kleenbrite, an innovative headlight lens cleaner that will easily clean yellowed or stained light lenses;
Wheel Mates, prevent wheels from seizing and becoming stuck to the wheel hub when attempting to remove the wheel, preventing damage;
Truk-Chek, another innovative product for truck drivers that will warn them of excessive heat to prevent wheel fires and accidents due to overheated tires; and
Permacap, a self-sealing permanent gas cap that will allow a driver to fill up without the need to remove the cap.
All of these new and unique Kleen Wheels products are available to purchase online. Kleen Wheels is a member of SEMA (Specialty Equipment Manufacturers Association) whose members are the producers and marketers of specialty-equipment products and services for the automotive aftermarket. The company is a frequent SEMA exhibitor at the industry's largest national convention that is held annually in Las Vegas, Nevada. Kleen Wheels has been recognized for their integrity and entrepreneurial spirit by receiving many awards including "Best of Show", "Best New Product" and "Best Packaging".
David Weinberg, President of Kleen Wheels Corporation had this to say about the company's success, "Dedication, commitment to quality of service, high standards of professionalism and product dependability are our fervent goals. I believe that this is the underlying factor of Kleen Wheels success. We are honored and excited to be entering our 37th year of business. We are even more excited to be able to offer all of our new, unique and innovative products to customers around the world. We would like to thank our team at Kleen Wheels for their loyal and dedicated contributions to this company, and of course, our customers for choosing Kleen Wheels for over 36 years."
Kleen Wheels headquarters is located at 3406 SW 26th Terrace, Suite C-10, Dania Beach, FL 33312. Their products are made to suit over 1,500 makes and models. Currently all of their products are sold strictly online at http://www.kleenwheels.com. For questions, Kleen Wheels can be reached by e-mail or at 1 (800) 327-6548. Website and web marketing services are provided by Atlanta SEO Company, Interactive Search Marketing.