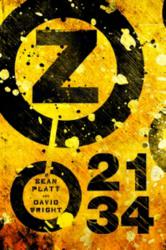 Hitting one hundred reviews in a little over a month since Z 2134 launched is incredible!
Cincinnati, OH (PRWEB) December 07, 2012
Author Sean Platt celebrates his Kindle Serial title Z 2134 hitting 100 reviews with a YouTube dance to Lady Gaga.
Cavorting across the screen in a Gaga-esqe skintight red outfit and blond wig, Sean Platt shows he's an author who knows how to have a good time.
"Hitting one hundred reviews in a little over a month since Z 2134 launched is incredible!" Platt said. "I'm so happy and grateful to my readers, I couldn't resist dancing and sharing the moment with them."
With the Gaga dance Platt has established a precedent for treating his readers to an on-camera boogie when his books reach certain milestones. Previously, Platt danced Gangnam Style to celebrate Z 2134 breaking into the top 100 bestselling Kindle titles, and claiming the number one spot in Amazon's horror department.
"The dancing's a way of having fun and letting my fan's see another side of who I am," Platt said.
He added: "My writing partner, David Wright, and I, have published a new episode of fiction every week since we launched our first serial, Yesterday's Gone, in July 2011.
"Writing at this pace is great fun, but it's also intense. It's important to let my hair down from time to time and just be an average guy who has a laugh with a crazy dance around the office."
Z 2134, published by Amazon's 47North imprint, tells the story of former City Watcher Jonah Lovecraft. Arrested for the murder of his wife, Lovecraft is given one chance for freedom. He'll be pardoned of his crime if he wins the Darwin Games, a TV survival show in which two players battle to the death in a zombie infested arena.
With over 50 five-star reviews, and an average rating of 4.1 stars from a possible five, the book is one of the best rated Kindle Serial titles on Amazon.
Kindle Serials are published by Amazon as a series of fiction episodes, with a new episode delivered to the reader's Kindle device every week. Once all episodes are published, the serial is available to purchase as a complete novel.
The first episode of Platt and Wright's latest Kindle Serial, Monstrous, launched at the end of November, priced $1.99 including updates for the full first season.
Z 2134, meanwhile, is available from Amazon for $3.99 for the Kindle and $8.97 in paperback.