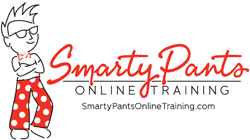 Martinez, GA (PRWEB) December 10, 2012
Smarty Pants Online Training, an online training company located in Martinez, Ga., recently announced that it is currently offering a free course called, "When No One is Looking". The free course covers how to be an employee of character and integrity. Students will earn one credit upon completion.
Smarty Pants Online Training also provides a comprehensive selection of child care online training courses and professional development classes, including first year required courses, first year director and cook courses, career development courses, leadership courses and many others. Most significantly, Smarty Pants Online Training courses are approved by Bright From The Start, Georgia's early care and education professional development system.
"At Smarty Pants Online Training, we shoot for your education, and the upshot is the entertainment factor," said Kathie Williams of Smarty Pants Online Training. "Each study course is like a Friday at the movies. And you, of all people, get to choose which movies you would like to see, when you would like to see them, 24/7." "
Smarty Pants Online Training's cutting edge approach to online training engages all of the student's senses while immersing them in the knowledge they need to succeed. Anyone working with children in the state of Georgia is encouraged to call Smarty Pants Online Training at (888) 321-4216 or visit its website to learn more about the advantages that online child care training courses have to offer.
About the company
Smarty Pants is a diverse team of writers and developers with over 20 years of experience, tackling all angles of the training conundrum. With the LOOK, LISTEN and LEARN method, Smarty Pants keeps students engaged and coming back for more. For more information visit their website at http://www.smartypantsonlinetraining.com.