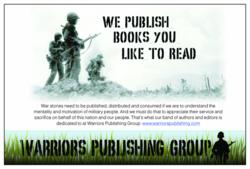 North Hills, California (PRWEB) December 11, 2012
One of the most challenging names on everyone's Christmas gift list is the military veteran. Those folks just seem to leave friends and relatives wondering what sort of gift might be just right for someone who has been places and done things so far outside the range of regular, day-to- day experience. A good answer—and a readily available option—is one of the military-themed books from Warriors Publishing Group.
Warriors Publishing Group (WPG) produces a range of titles that is sure to contain at least one book that will pique the interest and provide entertainment for the veteran on your Christmas shopping list. True to its avowed mission of publishing books that veterans really want to read, WPG provides a list of titles that cover a broad expanse of American military experience from historical novels to memoirs from authors who provide first-hand accounts of their service in contemporary conflicts.
Access, shopping, and ordering are easy on-line and the Warriors Publishing Group is sure to have one or more books that will bring a smile to the veterans, military buffs or avid readers on everyone's Christmas list.