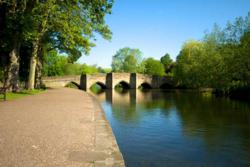 Today sees the launch of the completed section all about Bakewell
Peak District, UK (PRWEB UK) 7 December 2012
The team at http://www.peakdistrictonline.co.uk have just uncovered the secrets of Bakewell and bring to life the wonderful place that is the heart of the Derbyshire Dales.
'With bakeries battling over rights to a tart, the modern-day town is bustling and new visitors still meet its charm with delight, for the first time,' explains James Dobson, director and wildlife photographer for PDO. 'Beautiful Bakewell is a chocolate box village and a trinket box of delights and with battling bakeries claiming rights to a pudding, how many places in the Peak District can boast that?'
Passionate about the Peak District, a director for the UK's largest Peak District guide for accommodation is also a landscape photography fanatic. Steve Wake has lived and worked in the Peak District for most of his life and along with his business partner; the pair have managed the very successful website http://www.peakdistrictonline.co.uk for several together years now.
'Researching Bakewell was a wonderful thing to do for me because I have been coming here since I was a small boy,' explained Steve. 'Being able to indulge in my photography hobby and having to visit all these wonderful places for Peak District Online is a dream come true.
Bakewell doesn't seem to have changed all that much, although it is a very modern town nowadays, with anything and everything a visitor would want to buy or eat. I'm always nipping in with my family to do some shopping but having time to wander through the streets with research in mind, it's made me look at the little town in a different light. It always amazes me that somewhere so small has got so many nooks and crannies, full to bursting with wonderfully unique shops and the atmosphere is always so welcoming.'
Today sees the launch of the completed section all about Bakewell, just one of the Peak District villages the team are bringing to life with their wonderful writers and fantastic photographs. Already attracting over 200,000 unique visitors each month, the UK's largest Peak District guide accommodation prides itself in providing visitors to Derbyshire with anything they need to know during their stay.
'Bakewell is a wonderful place to bring the children, just as I was brought here as a child too' says Steve. 'The play area has changed somewhat from when I was a lad, but the new renovations have made it so is so safe and also so adventurous for children of all ages. The splash water section is fantastic in the summer, not so much in December of course. I now bring my own children here, and it is a place that is very close and dear to my heart, as it is to all my colleagues at PDO.'
The family run company at Peak District Online have made it their mission to be the best in the business in bringing up-to-date relevant information, news and articles about the area. With the summer holidays well underway, they provide lots of information to help parents with ideas of where to take the children to keep them happy.
'There's something about the place that gets really under your skin and once you have visited Bakewell, you can't wait to return,' says James. He goes on to add, 'we're so lucky and privileged to be able to live and work in this area and it's an absolute joy coming to work every day, driving through the most picturesque parts of the Peak District and then being able to research them, write about them and indulge in our hobby of photography. There are areas of Bakewell I never knew existed and it's really surprise me that even now, I have visited this village probably over 100 times, and still I am discovering more.'
Lots of new pages have been added to the section all about Bakewell and have been added this week. See the brand-new pages all about Bakewell and other Peak District villages as they are launched regularly at http://www.peakdistrictonline.