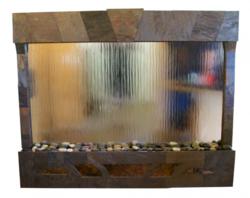 Tallahassee, FL (PRWEB) December 10, 2012
Many individuals enjoy water fountains, because of the beautiful scenery they create. Whether it is an indoor or an outdoor fountain, the atmosphere is enhanced by the addition of a water feature. Some individuals want a water fountain for their home, but most do not buy one because of the price. A promising website just opened up, and with their help individuals can finally make their dreams of owning a water fountain come true. Water Gallery LLC is proud to announce the opening of their new and improved web site WaterGallery.net. Water Galley LLC is the leading source for indoor fountains and bubble walls. Users can easily browse through the site and find top quality water fountains for the best possible price. The site offers a variety of videos, guides, articles, and other features to help customers make an informed decision when investing in a fountain.
Through the site, individuals can find wall hanging fountains, floor standing waterfalls, indoor waterfalls, outdoor waterfalls and bubble walls. Water Gallery LLC is proud to offer the best deals on indoor fountains on the Internet. Individuals are encouraged to browse through the site's selection of floor fountains, logo fountains, glass fountains, wall fountains and more.
If an individual is interested in having a fountain in their home or office, then they can easily request a free quote through the Water Gallery LLC website. The company offers all custom size waterfalls, and their team of fountain experts has over 30 years of combined experience. After the user fills out the request a quote form, they should receive a detailed reply from Water Gallery LLC within 24 hours.
The new and improved WaterGallery.net web site is user friendly and is packed full of resourceful information. All individuals who are interested in owning a fountain are encouraged to visit their website. The Guides and Articles section on the site provides hundreds of detailed articles about fountain ownership and will help educate site visitors on several fountain considerations. Some topics include maintenance of fountains, décor for indoor fountains, how to decorate the office with an indoor fountain, the many benefits of indoor fountains and much more. Water Gallery LLC is active in social media including Facebook, YouTube, Twitter, Google+ and Pinterest. Water Gallery also has an active a blog, which users are encouraged to read in order to learn even more about fountain equipment, maintaining a waterfall and general fountain information.
About Water Gallery LLC
Water Gallery LLC is the leading source for indoor fountains and bubble walls. They offer the top deals on indoor fountains online.