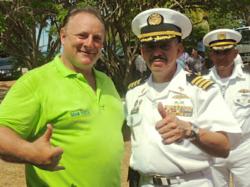 I was honored to of met all involved and feel encouraged by this and many other moves by the Costa Rican government to encourage foreign alliance.

Brett Elliott, CEO of CRREC
Playa Flamingo, Guanacaste (PRWEB) December 10, 2012
In a display of strengthening ties between Costa Rica and the United States, the U.S. Southern Command Rear Adm. Charles Michel, was in Playa Flamingo for the ground-breaking of the new coast guard station.
The ceremony organized by the Costa Rican government was held on the 14th of November and was attended by public security minister Mario Zamora, Costa Rican Coast Guard director Martín Arias, U.S. Southern Command Rear Adm. Charles Michel, U.S. Ambassador Ann S. Andrew and Santa Cruz, Guanacaste mayor Jorge Chavarria.
The project - slated for completion by November 2013 - will be located in front of the old Flamingo marina in the northwestern province of Guanacaste along what is often referred to as the Gold Coast.
The project will include accommodations for Costa Rican Coast Guard officers, restrooms, a kitchen, a dining room, air conditioning and a floating dock to name a few of the onsite amenities.
Admiral Charles Michel was privileged to be the one to lay the first cornerstone signally the projects start of construction.
CEO and founder of Costa Rica Real Estate dot COM, Brett Elliott had this to say about attending the event.
"I was honored to of met all involved and feel encouraged by this and many other moves by the Costa Rican government to encourage foreign alliance. Clearly it is times like now [Coast Guard inauguration] that demonstrate the dedication of Costa Rica to the security of residents in communities throughout the area."
The U.S. and Costa Rica Maritime Cooperation Agreement, was the first of it's kind in Central America when signed in late 1999, which facilitates cooperation between the Coast Guard of Costa Rica and the U.S. Coast Guard. Bilateral Costa Rican law enforcement cooperation, particularly against narco-trafficking, has been exceptional to date.
About Costa Rica Real Estate dot COM (CRREC)
CRREC ignited the real estate revolution in 1996 with it's incorporation. Then reinvented themselves in 2012 with the acquisition by current CEO Brett Elliott who plans to further strengthen the CRREC brand. Costa Rica Real Estate dot COM continues to lead the industry with its trusted service guarantee and dedication to buyer protection which is defining the future of real estate in Costa Rica.