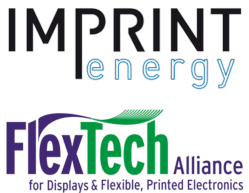 The project with Imprint Energy will help enable flexible electronic applications
San Jose, CA (PRWEB) December 10, 2012
Imprint Energy, Inc. of Alameda, Calif., will undertake a FlexTech Alliance – funded R&D project to expand the performance characteristics of printed, flexible Zn rechargeable batteries to a level applicable to flexible display, wireless and energy harvesting devices with high functionality. The FlexTech Alliance project award including cost share is valued at ~$725,000 and will be completed in 18 months.
Imprint Energy has developed an ultrathin, rechargeable battery technology leveraging a robust, solid electrolyte. This novel Zinc Poly™ battery technology utilizes an air-stable, earth-abundant, robust materials set that is manufacturable by print-based processing and will be scalable to large dimensions for sheet or web-processing. Imprint Energy expects Zinc Poly™ batteries to be competitive with lithium polymer technology, but at less than 50% of the cost and without the safety issues.
"Imprint Energy batteries based on a novel high conductivity polymer electrolyte can be manufactured using low cost, thick film deposition equipment which is sheet and web scalable, such as screen printing," stated Imprint Energy CEO, Devin MacKenzie, Ph.D. "This approach to battery manufacturing will enable the full realization of printing's benefits – low cost, versatility, scalability, and low energy consumption – and will offer the opportunity to leverage existing commercial printing equipment and know-how."
"The scope of this project encompasses the development of low-cost, thin, rechargeable batteries consistent with a generalized need for flexible, high capacity, multilayer, large area flexible battery stacks," stated Michael Ciesinski, CEO of FlexTech Alliance. "The project with Imprint Energy will help enable flexible electronic applications, in particular flexible display and flex-solar products."
The FlexTech Alliance R&D program is supported by the U.S. Army Research Laboratory (ARL), based in Adelphi, MD.
About the FlexTech Alliance
The FlexTech Alliance is the only organization headquartered in North America exclusively devoted to fostering the growth, profitability and success of the electronic display and the flexible, printed electronics supply chain. FlexTech offers expanded collaboration between and among industry, academia, government, and research organizations for advancing displays and flexible, printed electronics from R&D to commercialization. To this end, the FlexTech Alliance, based in San Jose, Calif., will help foster development of the supply chain required to support a world-class, manufacturing capability for displays and flexible, printed electronics. More information about the FlexTech Alliance can be found at http://www.flextech.org.
About Imprint Energy, Inc.
Imprint Energy, Inc. of Alameda, Calif. is an advanced battery technology company developing its proprietary Zinc Poly™ batteries for small portable electronics markets, including mobile accessories, compact wireless devices, wearable technology, health and fitness monitoring, and medical devices. The Zinc Poly electrochemistry system removes longstanding limitations on the rechargeability of zinc-based batteries and offers significant volumetric energy density, form factor, safety, cost, and processing advantages versus other rechargeable battery chemistries. Imprint Energy's batteries are printable and patternable using low-cost capital equipment and manufacturing processes that are highly scalable. The privately held company was founded in 2010 building on original research conducted at UC Berkeley. For additional information, please visit http://www.imprintenergy.com.