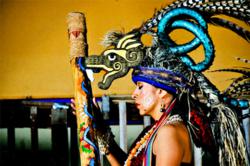 Chaa Creek's 2012 Maya Winter Solstice event has been highly anticipated since it was announced earlier this year.
(PRWEB) December 08, 2012
Due to unforeseen circumstances, three deluxe packages for The Lodge at Chaa Creek's 2012 Maya Winter Solstice celebration have become available, marketing administrator Larry Waight announced today.
"We thought we had been booked out, but I just discovered that three Maya 2012 Winter Solstice all-inclusive vacation packages are now available, which means three lucky people can now get in to join what promises to be an experience of a lifetime," Mr Waight said.
Chaa Creek's 2012 Maya Winter Solstice event has been highly anticipated since it was announced earlier this year. Combining hands-on education about Maya civilisation with tours of ancient Maya archaeological sites including some of the most important ancient cities in the Mundo Maya, or Maya World, the all-inclusive Belize vacation packages were designed to immerse guests in Maya culture prior to the December 21st Winter Solstice, which had been highlighted on the Maya Long Count calendar thousands of years ago as a pivotal date for humankind.
However, modern conspiracy buffs, various internet sites and even a major Hollywood film have helped promote speculation that the Maya Long Count calendar ends abruptly and signifies the end of the world on December 21 2012. Mr Waight said nothing could be further from the truth.
"Those (apocalypse) theories are absolute and utter nonsense," Mr Waight said. "December 21 2012 was and still is a hugely important date for the Maya. It's true that the date marks the completion of the 13th Bak'tun of the Maya Long Count calendar, a cycle thousands of years long, but interpreting that as the end of the world is taking a giant leap into fantasy world," he said.
There will be celebrations throughout the Mundo Maya, an area encompassing all of Belize and parts of Guatemala, Mexico, Honduras and El Salvador to commemorate the event. Huge crowds are expected at Mexico's ancient Maya site of Chitzen Itza and large celebrations are planned for Tikal in Guatemala. Mr Waight said Chaa Creek's celebrations are unique due to their more intimate, culturally holistic nature, emphasis on an authentic Maya experience and range of activities.
"It's going to be a lot of fun, and the package is set up so that guests can structure their time and learn as much or as little as they want at our representational Maya village where there will be workshops in Maya arts, crafts, cooking, farming, healing and other areas," he said.
Dr Jaime Awe and Dr Allan Moore, two of the world's leading Mayanists, will be giving presentations and authors Rosita Arvigo and David Ruiz, anthropologist Joe Awe, and Maya flautist Pablo Collado will be among other expert speakers and workshop leaders.
"There will also be a wealth of activities and things do, such as canoeing, horseback riding, nature walks, Maya ceremonial cave explorations, even Caribbean snorkelling on the Belize Great Barrier Reef. We wanted to do something really special for the 2012 Winter Solstice, and everyone's very happy with the results. It's structured to be deeply rewarding and at the same time deeply relaxing," Mr Waight said.
The highlight of the event will be on the solstice itself, December 21 2012, with a traditional Maya feast, music and candle light procession to the ancient Maya temple of Tunichilen located in Chaa Creek's 365 acre nature reserve.
The Maya Winter Solstice 2012 all-inclusive vacation package can be booked for seven, four or three days beginning December 15, Mr Waight said, and will interest everyone from professional Mayanists to families, friends and couples.
"Far from being the end of the world, we think this is going to open up a whole new way of looking at the world for everyone taking part in this event. This is the very centre of the Heartland of the Maya, and it is going to be very interesting to see what happens the night of December 21, 2012.
"Whatever happens, at least everyone here at Chaa Creek is going to be very well prepared for it," he added.