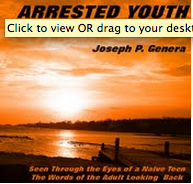 We only get one shot at this life, and if you have the chance and opportunity to go after something you love – Do it.
Los Angeles, CA (PRWEB) December 10, 2012
Overcome depression, physical impairment, severe illness and embrace each opportunity to live life fully by following the example and advice of author and actor Joseph P. Genera interviewed today on Dr. Carol Francis Radio Talk Show at http://www.blogtalkradio.com/dr-carol-francis/2012/12/10/living-fully-in-a-wheelchair--joseph-p-generas-story.
Joseph P. Genera, national public speaker, teen mentor, life-long civil rights advocate, busy actor and book author, conducts his life as an active influencer even though parapalegically confined to a wheel chair lifestyle for the last 30 years. "Never give up, no matter how horrible life's twists and turns might seem," advises Joseph P. Genera on Dr. Carol Francis Radio Talk Show December 10. Genera provides help for everyone suffering from seriously depressing hardships.
Author of a new novel, "Arrested Youth," Genera discusses rising above the accident that immobilized his legs for 30 years and pursuing acting, teen mentoring, raising children and novel writing. Joseph Genera's recent romance novel, Arrested Youth, autobiographically portrays beauty and tragedy. His novel is a compelling spin of teen troubles and hopes. Genera is also founder of MuscleCar-a teen mentoring program teaching life skills through auto restoration.
Psychologist and Author, Dr. Carol Francis drcarolfrancis.com or 310-543-1824 located in - Torrance, Manhattan Beach, Rancho Palos Verdes, El Segundo, Long Beach, South Bay Los Angeles areas.