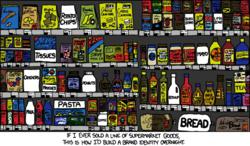 This is the first study of its kind that really delves into why some visual features simply 'work' and others don't.
-Milica Mormann
Berlin, Germany (PRWEB) December 13, 2012
It's time to book flights for the upcoming holiday season and time is running out; the phone is ringing, chats keep appearing at the bottom of the screen, and seats on the plane to Hawaii are rapidly disappearing. This scenario presents an all-too-familiar dilemma for businesses: How can customers find what they are looking for when they are constantly bombarded with time constraints and distractions, and as they sift through dozens of similar products? In the current 'attention economy', exponential growth in information means a corresponding decline in attention spans. Businesses must find innovative ways to make their products visually pop out to potential customers - and fast.
Enter EyeQuant, the Berlin-based neuroscience-meets-marketing startup that helps companies to build websites that stand the test of attention. A recent study conducted by EyeQuant scientific advisory board members and visual neuroscientists Milica Mormann and Christof Koch at the California Institute of Technology yielded some surprising clues into how consumer choice is influenced by visual stimuli.
Hungry participants were asked to choose from images of snack foods that they had previously categorized in terms of personal preference. They were then asked to choose again under varying time frames and cognitive-load conditions. By simply adjusting the brightness and contrast of certain items, Mormann, Koch, and their colleagues found that participants frequently chose the snack that visually stood out to them over their initial preference. Most importantly, this was especially the case if the participant was multi-tasking, in a rush to make a decision, or obliged to choose from a similar range of products.
Mormann was thrilled by the results: "This is the first study of its kind that really delves into why some visual features simply 'work' and others don't."
The study carries groundbreaking potential for marketers: If the visual saliency of a product can override consumer preferences, particularly in a time-sensitive and distracting context such as online shopping, then strategic alterations to a website's visual impact can dramatically shift a customer's attention in a crowded product market. Measuring consumer attention used to be a costly process, but EyeQuant's patented online tools, developed with world-renowned visual neuroscientists, precisely identify where these changes to a website need to be made. With a simple landing page screenshot, EyeQuant produces perception maps showing what visitors see – and what they miss. The best news: EyeQuant's tools generate instant feedback with over 90% accuracy at less than 1% of the cost, allowing online businesses to dramatically increase their conversion rates, and allowing users to book their trip to Hawaii more easily.
Citation: "Relative Visual Saliency Differences Induce Sizable Bias in Consumer Choice." By Milica Milosavljevic Mormann, Vidhya Navalpakkam, Christof Koch, and Antonio Rangel, Journal of Consumer Psychology, Vol. 22, No. 1, 2012.
Image Credit: Randall Munroe, "Brand Identity", http://www.xkcd.com/993/, published under Attribution-NonCommercial 2.5 Generic license.
# # #
EyeQuant is a Berlin-based neuroscience-meets-marketing SaaS that helps companies to build visually focused websites so that users can find what they are really looking for in an attention-driven world. EyeQuant's patented online software instantly predicts what visitors to a website see - and what they miss - with over 90% accuracy and at a fraction of the cost and time of traditional eye-tracking studies. EyeQuant has been developed by some of the world's leading neuroscientists at Caltech and is used by businesses like Google, Groupon, and Spotify to optimize user attention, conversion rates, and usability. Take a free online test here and receive actionable results within seconds.
Contact: bitsy(at)eyequant(dot)com
Reichenberger Strasse 124
Berlin 10999, Germany
+49 30 609 899 794
http://www.eyequant.com
https://www.facebook.com/eyequant
https://twitter.com/eyequant