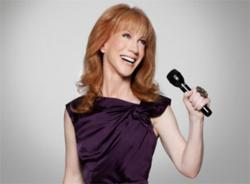 Cincinnati, OH (PRWEB) December 10, 2012
Two-time Emmy winner, NY Times bestselling author, four-time Grammy nominee, Broadway darling, 2009's GLAAD Vanguard recipient and 2011 Trevor Project Life Award honoree Kathy Griffin returns to Cincinnati this April 5th at the Taft Theatre. Griffin is a multi-faceted performer with rapid fire wit, who has been making audiences laugh for years discussing Hollywood gossip and celebrity blunders.
Reserved tickets, $62.50, $52.50 and $42.50 (plus applicable fees), go on sale this Friday, December 14 at 10:00 AM at http://www.ticketmaster.com, http://www.tafttheatre.org, the Taft Theatre Box Office and all Ticketmaster outlets including select Kroger stores. Charge by phone at 1.800.745.3000.
After moving to California, from her native Chicago, and joining the famed Los Angeles Groundlings comedy improvisational troupe, Kathy began building her resume with guest starring roles on such series as "ER" and "Seinfeld" – where she created recurring character Sally Weaver. In 1996, Kathy's dream of playing a sidekick on a sitcom came true when she landed the role of Vickie Groener, Brook Shields' sharp tongued colleague, on the NBC show "Suddenly Susan."
After her various TV guest spots, Kathy began gaining notice as a stand-up comedienne and landed her own "HBO Half Hour Comedy Special." In 1998, HBO gave Kathy her own one-hour special, "A Hot Cup of Talk." She participated in, and won "Celebrity Mole" on ABC, and then hosted the NBC reality series "Average Joe" as well as the MTV series, "Kathy's So-Called Reality." In 2010, Kathy took a dramatic turn on "Law and Order: SVU" where she riveted audiences with her portrayal of a lesbian activist with a secret.
In August 2005, Kathy's reality show, "Kathy Griffin: My Life on the D-List," debuted on Bravo to rave reviews and was nominated for an Emmy for Outstanding Reality Program and the second season of "Kathy Griffin: My Life on the D-List" won Kathy her first Emmy in that same category. The third season premiered in 2007 and again won Kathy an Emmy for Outstanding Reality Program. The fourth and fifth season were nominated again for Outstanding Reality Program. Continuing the trend, the sixth and final season of "D-List" aired on Bravo during the summer of 2010 and received a nomination for Outstanding Reality Program.
March of 2011 Kathy brought her stand up show to Broadway with "Kathy Griffin Wants A Tony" and received rave reviews from outlets all across the board including The New York Times and the New York Post. She added 2 shows due to amazing ticket sales, and did 10 shows in 8 days at the famed Belasco Theater. She sold over a million dollars worth of tickets in less than a week, quite a feat for Broadway. Kathy utilized her friendships in the entertainment industry and brought out on stage before each show one of her famous friends, including Rachel Ray, Suzie Orman, Lance Bass, Rosie O'Donnell and Joan Rivers. To see her Broadway Playbill and her hilarious Broadway bio please visit kathygriffin.net.
In June 2008, Griffin released her first comedy album "For Your Consideration" which featured tracks such as "Straight Guys Wake Up!" and "Hi Barbara Walters." The album received a Grammy nomination for Best Comedy Album and garnered Kathy the acclaim of being the first female comedian ever to debut at #1 on the Billboard Top Comedy Albums chart. In 2009, Kathy released her Christmas album called "Suckin' It for the Holidays." Kathy was again nominated for a Grammy for Best Comedy Album for 2010's "Kathy Griffin Does the Bible Belt" and 2011's "Kathy Griffin: 50 and Not Pregnant."
Kathy is very involved with the gay and lesbian community and was presented with the prestigious Vanguard Award at the 2009 GLAAD Media Awards. The Trevor Project awarded Kathy with Lifetime Honoree at the 2011 gala for her tremendous work with the GLBTQ community. Kathy won the 2009 Gracie Award for Outstanding female lead in a Comedy Series. She was the 2007 GAVYN Awards Honorary Gay, the recipient of the 2006 Ladies Home Journal Funny Ladies We Love Award and in 2005 she received the Lambda Legal Liberty Award. Other honors include 2003 Toys for Tots Commander's Award, Women's Night Special Comedic Award, Lucie Award, 2005 Aid for AIDS Friend of the Year and in 2007 was voted one of the Top 100 Irish American's in Irish American Magazine. Kathy has also been nominated four years in a row for the Television Producer of the Year in Non-Fiction Television PGA Award.