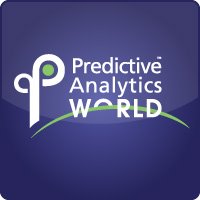 San Francisco, CA (PRWEB) December 11, 2012
Hungry to know how campaign analytics played a crucial role in Obama's win? Talk to Rayid Ghani, Chief Data Scientist for Obama for America at Predictive Analytics World (PAW) in San Francisco, CA, from April 14-19, 2013.
Mr. Ghani's address, on April 15, 2013, is not the only keynote that has predictive analytics professionals beating down the doors of this international conference. They're also eager to hear from keynote speakers:

Anthony Goldbloom, CEO of Kaggle, who will be showcasing lessons learned from the Heritage Health Prize, the largest predictive modeling competition ever attempted.
Edward Nazarko, Client Technical Advisor at IBM, who will be spotlighting IBM Watson. Nazarko will discuss how Watson has gone beyond Jeopardy! and is now being put to work in a huge range of industries.
Even better, attendees who register before December 21, 2012 can take advantage of Super Early Bird Pricing to save up to $1,200 off onsite prices.
Targeted towards analytics managers, marketers and technology experts, PAW San Francisco is a full-bore, one-week event with over 35 sessions and multiple networking opportunities with industry heavyweights.
Attendees can choose to participate in the pre- and post-conference workshops – such as "Making Text Mining Work: Practical Methods and Solutions" and "R for Predictive Modeling: A Hands-On Introduction" – or simply come for expert panels on big data and in-depth case studies on topics like data visualization, spam detection and uplift modeling.
Register before December 21 for PAW San Francisco (April 14-19, 2013) and save up to $1,200 off the full price.
View the full agenda and see all the in-depth sessions available.
About Predictive Analytics World
Predictive Analytics World is a world-renowned, business-focused event for predictive analytics professionals, managers and commercial practitioners. This conference delivers case studies, expertise and resources to achieve:
Bigger wins: Strengthen the impact of predictive analytics deployment
Broader capabilities: Establish new opportunities in data science
Big data: Leverage bigger data for prediction and drive bigger value
The only conference of its kind, Predictive Analytics World delivers vendor-neutral sessions across verticals such as banking, financial services, e-commerce, entertainment, government, healthcare, high technology, insurance, non-profits, publishing and retail.
About Prediction Impact, Inc.
Prediction Impact, Inc. has a network of consultants and partner firms with expertise over a range of disciplines, including predictive analytics, data mining, text mining, system integration, and web site optimization.
About Rising Media, Inc.
Rising Media is a global events producer excelling in Internet and technology-related conferences and exhibitions. Rising Media-produced events include Data Driven Business Week, eMetrics Summit, Conversion Conference, DemandCon, GAUGE, Predictive Analytics World, Text Analytics World, Affiliate Management Days, Building Business Capability, Social Media Economy Days, Web Effectiveness Conference, Search Marketing Expo, SemTech and Social Gaming Summit in the US, Canada, UK, France, Germany, Sweden, Finland and Australia.