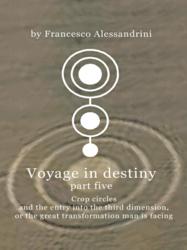 This book is about understanding what is next for the human race.
Venice, Italy (PRWEB) December 11, 2012
For decades, everyone from university researchers to Hollywood directors have brought forth their interpretations regarding the mysteries of the crop circle. Today, those mysteries have finally been solved.
In Voyage in Destiny – Part Five, author Francesco Alessandrini encourages readers to approach their understanding of crop circles in an entirely new way – not from a sensational point of view, but with the knowledge that their meaning could change the human experience forever.
"Voyage in Destiny is about understanding what is next for the human race," says Alessandrini. "I wrote this book as a way for others to look beyond the limited knowledge of man and understand the ramifications of this new source of information".
Informed by years of research and multiple encounters with "Masters of Light of a high level", Alessandrini details the true interpretation of crop circles – and what they mean for the future of humanity.
For more information, visit http://www.voyageindestiny.org.
Voyage in Destiny – Part Five: Crop circles and the entry into the third dimension, or the great transformation man is facing
By Francesco Alessandrini
ISBN: 978-1-4567-8673-1
Softcover, retail price: $20.69
E-book price: $7.99
About the author
Francesco Alessandrini is an engineer who works on the planning and design of important civil engineering structures (bridges, roads, ports and dams). He taught for ten years at the University of Udine in the geotechnical sector.
Alessandrini's interest in subtle energies and phenomena correlated to the states of a widened consciousness started fifteen years ago. Personal research has allowed him to develop spiritual and historical knowledge relative to the diverse populations of Earth. This development of spiritual sensitivity has allowed him to come in contact with completely atypical cognitive realities fundamental in understanding the meaning of the life of man and much more.
This knowledge underwent an unexpected and exponential growth when he came in contact with the Masters of Light of high level three years ago. Their help transmitted a series of knowledge on varied aspects of creation and on the life of man which has been transcribed into four books, likewise named "Voyage in Destiny", as suggested by the Masters.
The books all address the deepening of "true knowledge", or a knowledge that does not come from the limited human point of view, but which contains all the knowledge and wisdom of a spirit endowed with an immensely wider vision than man's.
Alessandrini is married to the sweet Maddalena; they live in Udine, Italy.
# # #