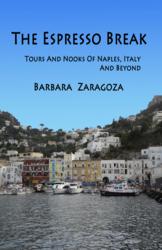 More than two hundred Catholic Churches exist in downtown Naples alone. Open to everyone, they provide quiet reprieve from the frenetic city traffic and display stunning works of art for free.
Chula Vista, CA (PRWEB) December 12, 2012
Naples, Italy holds it "Night of Art" in the historic center of the city on December 15th and hotels are already fully booked with tourists for a night of fashion, tango, music and art, according to Il Mattino. What's more, throughout the Christmas season, many of the historic center streets will become pedestrian only.
The festivities, once again, give proof of the reputation that Naples, Italy is both "Christmas City" as well as "The City of Miracles." For the Italy expat as well as the independent traveler, The Espresso Break: Tours and Nooks of Naples, Italy and Beyond is the perfect travel guide to take along for this season.
There are 200 churches in downtown Naples alone and Barbara Zaragoza's guide provides a manageable "Church Tour." The nativity scenes can be visited all year round, but Christmas is the best time to take a tour. The guide also includes the 'wonder of the world,' The Veiled Christ and insider information on where to watch miracles take place in front of your very eyes (e.g. Saint Patricia's miracle every Tuesday after mass).
The travel guide doesn't stop at holiday tours. You'll also find nine self-guided tours, thirty insider nooks, and travel tips that include top places to stay, eat and shop.
The latest review of the book by LindyLouMac says, "This guidebook is perfect for the armchair traveller, or to tuck in your bag on your trip to Naples whether you are a first time visitor or have been there many times before. I think you might find some hidden nooks that you did not know existed! I also agree with the author's own suggestion that this book makes an excellent introduction to the newly arrived ex-pat living in Naples as many of the articles will help one understand the cultural differences. Besides ideas for the tourist Barbara Zaragoza covers topics as diverse as food, shopping and the problems of rubbish and racism. It would also not have been complete without the section on Neapolitan espresso and its history, which gives the book its title. As well as the obvious sights, Vesuvius, Pompeii and Herculaneum there are many other places covered. Which in my opinion means you cannot fail to find something of interest, with her tour ideas based on different themes, such as Ancient Rome, Grottoes or Odious Women. This guide will certainly be travelling with us on any future trips to Naples."
About
Barbara Zaragoza blogged about Naples, Italy for three years. She is a novelist, travel writer and mother of three children. She has a Master's degree in European history from Harvard University and enjoys exploring local histories, myth, and travel to lesser known destinations. For more about the author, the book, and Naples travel, go to Naples (Napoli) Travel Information Guide.