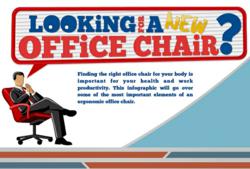 Pittsburgh, PA (PRWEB) December 11, 2012
For the standard 9-5 office worker, sitting in the right chair can make a huge impact on the individual's overall health and comfort. With new research constantly coming out about the dangers of sitting stationary for too long, ergonomic office furniture has become a hot topic. Sitting in a chair that causes slouching strains the muscles of the back. This strain can cause intense lower back pain, shoulder pain, a stiff neck, and even headaches resulting from reduced blood circulation in the upper body. Over time, slouching can also cause permanent curvature of the spine all the way through the neck, causing chronic muscular pain and headaches. Poor alignment of your monitor, keyboard, and mouse may cause other forms of wrist, shoulder, and neck pain. The list of problems goes on. Fortunately, with some adjustments to your chair, you could be well on your way to creating a comfortable working environment that will help you maintain proper posture.
Two of the major elements of ergonomics are chair height and lumbar support, as demonstrated in the infographic. The chair should be low enough for your feet to rest flat on the floor with your knees at the same height as your hips. If the chair is too low, your knees will rise above your hips, causing them to roll backward which will curve your spine. At the proper height, you should be able to type with your forearms parallel to the floor as well as look straight ahead (not downward) to see your computer screen. If any of these heights don't match up, you can use computer monitor stands or foot rests as needed.
Sufficient lumbar support is another key feature. Your lower back should have contact with the chair back when sitting. The lumbar support should curve inward to complement the natural curve of the spine. In a straight-backed chair, lacking this support may cause you compensate for the distance between your back and the chair by slumping forward. This forces the upper portions of the back out of their natural posture.
By having a chair that helps you maintain good posture throughout the day, not only do you avoid health complications, pains, and stiffness, but you can go home more relaxed, less stressed, and even with a little energy to spare.
Office Chairs Unlimited is an Internet-based retailer that offers quality office furniture at wholesale prices. With an A+ rating from the BBB, Office Chairs Unlimited offers free shipping on every purchase and has serviced 42% of America's Fortune 500 companies. All chairs are sold new, straight from the manufacturer. No product is sold defective or as a customer return. With these customer-friendly policies in place, Office Chairs Unlimited has become a trusted source for meeting office chair needs across the country.