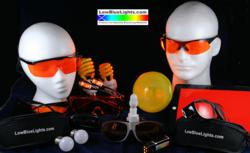 University Heights, OH (PRWEB) December 14, 2012
Metastasis of cancer to distant sites is the thing that kills most cancer patients, not the original tumor. This breakthrough study at Tulane and Thomas Jefferson Medical Schools showed that the increased risk of metastasis of both breast cancer and prostate cancer can result from disrupting the circadian (daily) cycle causing loss of melatonin due to exposure to light at night. Avoiding the blue rays in ordinary white light for four hours before bedtime, coupled with 8 hours of sleep in darkness, may restore the full 12 hours of melatonin flow known to be possible (2).
According to Dr. Richard Hansler spokesperson for Photonic Developments LLC, "The study examined the molecular processes involved in the transition of stable cancer cells into cancer cells capable of moving through the blood stream to distant sites where new tumors can develop. They examined how the presence of various compounds required for the different steps in the process were associated with the presence or absence of melatonin. They looked at this in both cultured cancer cells (both breast cancer and prostate cancer) and also in human cancers grown as grafts on the backs of rats but supplied with human blood. In every case, cancer cells retained a static structure when melatonin was present, however, in the absence of melatonin, the conditions necessary for metastasis to occur were observed. The blood without melatonin was obtained from volunteers either during the day or during the night after 2 hour exposure to bright light. The blood with melatonin was from volunteers either during the night when they were kept in darkness or during the day following oral administration of a melatonin supplement."
"The transition of the cancer cells from one type to the other is a complex process. Reducing the risk of metastasis is not complex or difficult. A study at the University of Toronto (3) seven years ago found that blocking blue light (wavelength less than about 530nm) with amber eyeglasses restored melatonin as if the subjects were in darkness even though they were exposed to bright lights during the night. Such glasses along with light bulbs that don't produce blue light and filters for TV and iPads and iPhones are available at http://www.lowbluelights.com (since 2005). Thousands of customers have purchased these products (with a guarantee) to improve sleep. About 90% find they help. Now there is a very significant bonus. Both the incidence of cancer and its metastasis may be reduced by this simple method." said Dr. Hansler, author of "Great Sleep! Reduced Cancer! and :Heroes if Cancer Prevention Research" (Amazon).
(1)
Mol Endocrinol. 2012 Nov;26(11):1808-20. doi: 10.1210/me.2012-1071. Epub 2012 Sep 21.
Circadian Gating of Epithelial-to-Mesenchymal Transition in Breast Cancer Cells Via Melatonin-Regulation of GSK3β.
Mao L, Dauchy RT, Blask DE, Slakey LM, Xiang S, Yuan L, Dauchy EM, Shan B, Brainard GC, Hanifin JP, Frasch T, Duplessis TT, Hill SM.
(2)
PLoS One. 2008 Aug 26;3(8):e3055.
Individual differences in the amount and timing of salivary melatonin secretion.
Burgess HJ, Fogg LF.
(3)
J Clin Endocrinol Metab. 2005 May;90(5):2755-61. Epub 2005 Feb 15.
Blocking low-wavelength light prevents nocturnal melatonin suppression with no adverse effect on performance during simulated shift work.
Kayumov L, Casper RF, Hawa RJ, Perelman B, Chung SA, Sokalsky S, Shapiro CM.