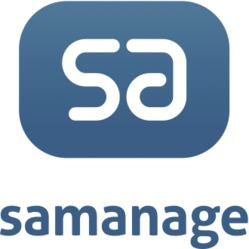 We believe that all service providers within organizations will benefit from implementing our intuitive service desk - streamline service and support processes, deliver a faster response, organize and share knowledge with employees
Cary, NC (PRWEB) December 12, 2012
SAManage, the leader in cloud-based, integrated Service Desk and IT Asset Management software has introduced the extended SAManage Service Desk, enabling departments other than IT to further streamline support processes and improve communications between employees and the service providers, such as the HR department, facility management or procurement team.
Every corporate environment has processes and regulations in place for employee care, facilities management, procurement, travel and other areas. These business processes can now be managed by one Cloud based service desk. Departments other than IT can use the SAManage Service Desk which instantly adapts to suit their needs and provide the requested functionality.
There are several early adopters who deployed SAManage in a matter of days to their HR and facilities departments in addition to IT. SAManage's ability to deliver an easy-to-use, modern Service Desk has given the non-IT departments a tool that is helping them provide improved service levels to their internal customers
"We believe that all service providers within organizations will benefit from implementing our intuitive service desk - streamline service and support processes, deliver a faster response, organize and share knowledge with employees", says Doron Gordon, CEO of SAManage. "HR departments can streamline the on-boarding process, Facilities managers can add a service catalog including requests to move equipment, adjust the air conditioner and more. These specialized services, requested and provided via the SAManage Service Desk, increase organizational efficiency and improve communication.
The SAManage Roles and Permissions capability helps the IT manager extend access to departmental and organizational users and control what data they are allowed to view and modify. Your IT administrator from the London office can only view asset inventory and service requests relating to her site, and the purchasing officer from Chicago can only modify contracts belonging to the Chicago office. These role definitions give SAManage users the flexibility to determine a security model that meets their organization's needs and provides complete control over their SAManage Service Desk. With SAManage Roles and Permissions users can:
1. Create roles with view-only or update permissions relating to any object
2. Scope users' access to sites and departments they are part of
3. Control who can access the account's setup and administration sections
On the corporate level different departments using one and the same platform means that fewer solutions need to be implemented and supported by IT, thereby significantly improving ROI.
SAManage Service Desk and the new Roles and Permissions is available today.
---
About SAManage
SAManage provides SaaS IT asset and service management solutions that help organizations better control their IT inventory, organize licenses and contracts, and detect risks and license compliance gaps. SAManage empowers companies of all sizes with IT management capabilities that were previously available only to large organizations, making it easy to automate and simplify the daily tasks associated with establishing IT governance, control, compliance, and user satisfaction. Visit http://samanage.com to learn more.