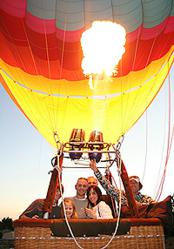 Please be aware who you book with. There are some companies out there that are operating without insurance, clean or safe equipment. The difference between us and them is that we have current insurance, and our vans and balloons are impeccably maintained
San Diego, CA (PRWEB) December 11, 2012
Sky's the Limit Ballooning Adventures is pleased to announce a special limited time offer for balloon rides in San Diego and Temecula. For a limited time only, guests can book balloon rides on Monday - Thursday for just $150 per person, a savings of $65 per person off the regular price of $215.
With an experienced crew and FAA commercial licensed pilots, Sky's the Limit takes guests on an unforgettable adventure over the multi-million dollar estates of the rich and famous, all while capturing breathtaking views of the Pacific Ocean, Palomar Observatory, Catalina Island, and Mountains of Mexico. All guests receive complimentary champagne on their voyage.
Sky's the Limit also offers Temecula balloon rides on their Temecula Sunrise Adventure, providing guests with views of local wineries (Ponte, Maurice Carrie, Wilson's Creek, etc.), The Palomar Observatory, Lake Skinner, and the San Bernardino Mountains.
Featured on San Diego Channel 6 News and earning 5-star reviews on TripAdvisor.com and Yelp.com, Sky's the Limit Ballooning Adventures has been flying guests since 1997. The company goes to great lengths to differentiate itself from other companies in the area that offer hot air balloon rides.
A representative for the company said, "Please be aware who you book with. There are some companies out there that are operating without insurance, clean or safe equipment. The difference between us and them is that we have current insurance, and our vans and balloons are impeccably maintained. We take a lot of pride in our balloons and what we do. We value our customers and their safety; you will not be disappointed. "
The company regularly serves guests celebrating birthdays, anniversaries, weddings, and other special occasions, along with those who just want a new adventure.
"We will assure you one of the most enjoyable, safe, and incredible experiences of your lifetime," reads the company's website.
To take advantage of these limited time offers or to learn more, call 1-800-558-5828.