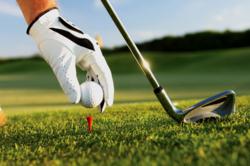 Brentwood, TN (PRWEB) December 11, 2012
According to the Vascular Noninvasive Screening and Diagnostic Center, Sudden Cardiac Arrest (SCA) is the number one cause of death on the golf course and remains the leading cause of death in the U.S. leading to an estimated 325,000 deaths each year. Though it can strike a person of any age, lifestyle or ethnic background, the American Heart Association has determined that the risk for SCA increases as we age. According to the McMahon Group Database, more than 50 percent of golf and country club patrons are older than 56, and 29 percent over age 66. These club members and guests fit the profile of those at highest rick of Sudden Cardiac Arrest.
In addition to the age of club members, there are other reasons golfers are at high risk of Sudden Cardiac Arrest. SCA is more likely to occur between 6 and 11 a.m., when most golfers are on the course. Golfers also spend four to six hours a day on the course, often several times a week. There is nothing fundamentally dangerous about golf, but when someone's heart stops out on the fairway, it is very difficult to deliver emergency medical care in time to save someone's life. Because of its size, secluded locations and poor accessibility, a golf course can be one of the worst places for Sudden Cardiac Arrest to strike.
The good news is that Automated External Defibrillators (AEDs)—a device used to restore normal heart rhythm to patients in cardiac arrest—is becoming very common. Chances that a victim surviving cardiac arrest increase from less than 5 percent to more than 90 percent if an AED is used within 3-5 minutes of collapse. Having a proper plan in place will help keep the survival percentage high.
"Given the demographics of their members, it is imperative that golf and country clubs be equipped with an AED and have a plan in place," says Blaire Czarniecki, Sales Support Administrator at AED.com. "Quick defibrillation within 3-5 minutes of collapse is key to increasing survival rates of Sudden Cardiac Arrest victims, especially on the golf course."
A golf course should have an AED present in the golf shop or on a cart and have the golf shop phone number available to all members. If someone collapses from Sudden Cardiac Arrest, people surrounding the victim should immediately call 911, call the golf pro shop, and begin CPR. The employee in the golf shop should then get a cart and take the AED to the proper destination.
AED.com serves over 20,000 customers in all 50 states and 35 countries worldwide. For more information, please call 855-233-0266 or visit http://www.aed.com/