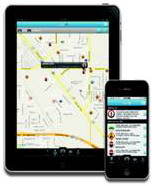 The US Department of Justice has reported that nearly 800,000 children become missing each year.
Las Vegas, Nevada and Palo Alto, California (PRWEB) December 11, 2012
AlertID, working with The National Crime Prevention Council (McGruff the Crime Dog®), urges you to protect your children and family during this Holiday Season. Whether attending holiday events, holiday shopping or traveling with family, AlertID™ provides a free app that helps protect your entire family.
My Family Wallet™, which is one part of AlertID's mobile app, provides parents with a secure, convenient way to store current information and photos of their children and other family members, including pets, directly on their smart phones. In the event that a parent needs to report a missing child or family member, AlertID gives them the ability to send this critical information to law enforcement or other security officials in seconds with the push of a button.
My Family Wallet™ is easy to use and takes less than five minutes to input the necessary information (basic demographic and contact information) and a current photo of the child can either be taken with the phone or added from existing photos. The information remains securely on your phone and can be sent quickly to authorities in case you ever become separated.
"The US Department of Justice has reported that nearly 800,000 children become missing each year. Most families will admit that they are not armed with the most current information about their child, and for every minute a child is missing, they are potentially another mile away from safety. AlertID is a free and simple way for parents to be proactive and have this information at their fingertips should they need to contact authorities," said Keli Wilson, AlertID's Founder.
AlertID also provides its members with alerts from state sex offender databases in 23 states, representing more than 224 million people, with more states being added each month.
In addition, AlertID's mobile applications also allow you to send pictures and other information about potential crimes or threats directly to law enforcement quickly and easily.
"AlertID is an important resource and every parent should be prepared for an emergency", said Stephanie Parker, Chairperson Nevada Amber Alert Committee. "The app is free and easy to use, and we strongly recommend that every parent sign up for this service at http://www.AlertID.com."
To sign up for a free account, or for more information, go to http://www.AlertID.com.
About AlertID, Inc.
AlertID is the established leader in making the country's public safety information universally accessible, helping people protect their families and communities. Alerts are provided by trusted sources including public safety agencies, local law enforcement, schools, neighborhood groups, neighbors, family members and friends.
This first-of-its-kind, fast-growing network is the leader in helping people protect their families and communities throughout the United States and is poised to evolve into the world's go-to public safety and security resource.