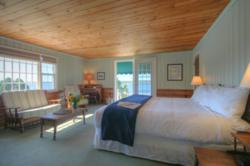 We look at every room and every feature of the resort each winter to make sure our guest experience exceeds expectations when we re-open in the spring. Joe Paolillo, innkeeper, Spruce Point Inn
Boothbay Harbor, Maine (PRWEB) December 11, 2012
– Spruce Point Inn, the 57-acre family resort on the coast of Maine in the classic seaside town of Boothbay Harbor, is taking advantage of the winter downtime to make continuous improvements that are the hallmark of the historic inn, cottages and oceanfront guest lodges. Innkeepers Angelo DiGiulian and Joe Paolillo are again working through a detailed checklist designed to enhance the guest experience in the 2013 season.
"While it is standard practice in the lodging industry to schedule maintenance on guestrooms as they become 'tired,' we have redefined 'tired' by taking maintenance to a whole new level. We make the commitment to keep surprising our guests by staying in shape with new enhancements, conveniences and amenities that keep Spruce Point Inn fresh," said Paolillo. "We look at every room and every feature of the resort each winter to make sure our guest experience exceeds expectations when we re-open in the spring."
The Spruce Point innkeepers have a full regimen planned to tone up every building on the property between now and May 2013. They plan to focus in particular on lodge guestrooms, waterfront features, family amenities and landscaping. Among the highlights:

New playground features include several "beached" boats – a pirate ship, a small sailboat and a lobster boat – facsimiles made of cedar, connecting kids' experiences on the waterfront with their play.
The Inn's recreational amenities are being focused around the saltwater pool area: bicycles, kayaks and fishing gear will be relocated to this area and a kayak launch ramp will be added to the Inn's dock and float. New cedar decking and a snack center are being installed near the pool.
In the fire pit area, where guests enjoy Spruce Point Inn's evening s'mores parties, there will be more seating, picnic tables and new charcoal grills in response to requests from the Inn's cottagers.
On the waterfront, the Inn will build additional stair access to the shorefront and plans to tuck benches into the nooks that are favorite places for guests to enjoy the view and ocean breezes.
The innkeepers plan a "fresh air campaign" for guestrooms in the Seagull, Puffin, Loon, Seabreeze, Balsam and Evergreen accommodations by engineering more cross ventilation, installing louvered doors or baffled vents that circulate a higher cubic volume of air. "We want guests to be able to enjoy the seabreeze day and night," said innkeeper Joe Paolillo. Cosmetic renovations are being made to the modern Lodge rooms, starting with Seabreeze to update the look and feel by introducing the marine palette of interior paint, replacing some carpeting with wood floors and exchanging drapery for Levolor blinds. The innkeepers will continue interior painting and the program to enhance the cottages with new spruce shutters they began last year.
Landscaping improvements include "curb appeal" enhancements to the lodging buildings, new stone rip/rap on the waterfront, new plantings in the Lighthouse, Linekin and Spruce Cottage surroundings and several new garden features. A new butterfly/hummingbird garden is planned and the Inn will formalize its cutting exchange so that guests are welcome to try cuttings of favorite flowers or herbs they encounter at the Inn in their own gardens. "We are very proud of the fact that we are a preferred lodging partner for the Coastal Maine Botanical Garden and we love to introduce our guests to the natural environment of Maine," said DiGiulian. Plans also include moving some of the large boulders on the grounds for guests to sit on to enjoy the view and to reposition some of the new growth trees. "We always have better luck moving trees that have gotten their start here, instead of bringing in new plants," he said.
The dining experience at Spruce Point Inn will also be enhanced by offering seasonal outdoor dining at Deck, the inn's oceanfront café and installing a new technology and operating systems that will optimize guest service in all three restaurants, Deck, Bogie's and 88. Executive Chef Peter Stiles is meeting with local farmers and planning menu updates. Food and Beverage manager Roman Nazar is spending the off-season interviewing and training waitstaff – many of whom will be joining the Inn from Jupiter Island Club and Naples, Florida.
Spruce Point Inn will open for the 2013 season on May 17 – and is already fully booked for May 17 and 18. Reservations and sales assistance are offered year round, although the Inn is closed for the season; and gift certificates in any denomination are available at any time. For 2013 information and reservations, visit http://www.sprucepointinn.com or call 800-553-0289
About Spruce Point Inn (http://www.sprucepointinn.com)
In operation for more than 100 years, Spruce Point Inn is a distinctive and historic vacation destination for travelers from all over the United States. Its relaxing facilities have long been a part of the summer community and a backdrop for delightful "oceanside memories made in Maine." Located in the seafaring village of Boothbay Harbor, Maine (an hour north of Portland) and situated on 57 acres of stunning oceanfront and sheltering pine forest, the resort is a retreat of 9 guestrooms in The Inn, 15 classic cottages and cottage rooms, 56 modern lodge rooms and 5 townhomes. The convenient location, peaceful setting and spectacular coastal views have made Spruce Point Inn a premier resort for families, reunions, weddings and business events. For reservations, call 800-553-0289 or visit http://www.sprucepointinn.com