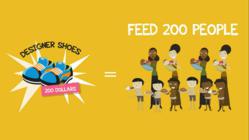 You and us will be running this initiative hand in hand to end world hunger
Dubai, UAE (PRWEB) December 12, 2012
Assisting people in need is not easy in this tough economic scenario. However, Ahmed Jaber and Mohamed Jaber from Dubai dared to think differently and come up with a one-of-a-kind initiative that can be a revolution in fighting hunger across the world. The entrepreneur duo from Dubai has just launched a new concept of shopping named Guilt Free Shopping. As per the most recent data, 925 million people suffer from hunger and one child dies of starvation in every three seconds. Guilt Free Shopping is a unique concept where each sale made by the company ensures food and nutrition to starving children in different parts of the world. As an example, a sale worth $100 will provide food for 100 of them.
Talking about Guilt Free Shopping, co founder of the project Ahmed Jaber says, "Our initiative is to change the way people shop, by not compromising on the product they buy or the brand. Instead, we would stand hand-in-hand by the shoppers and match every purchase they make by feeding an equivalent amount of individuals in a bid to fight hunger worldwide. When you opt to buy anything with us for a price tag of $1,000 or $700, we will match your purchase by immediately donating money to feed 1,000 or 700 children respectively. So, not only would you have purchased whatever you want, but you would also feed 1,000 hungry children!"
Ahmed Jaber, however, did express his concern saying, "Our biggest concern is not how we would finance such an initiative, rather how many people would take part in it to make it an even bigger success & feed more children". The company is offering a comprehensive collection of ladieswear, menswear, kidswear and accessories from all top designer brands to make the most of the ongoing Christmas shopping season. The platform is very easy to use and hosts a number of options to interact with the team for assistance. Inviting all to join this movement, Mr. Jaber said, "While shopping here, you are actually involved in a much bigger cause that will drastically change the world to become a better place, not just for you, but for everyone. You and us will be running this initiative hand in hand to end world hunger".
About Guilt Free Shopping: Guilt Free Shopping is a unique concept of buying that promises to alleviate hunger from this world by donating money for each sale made by the company. This praiseworthy initiative comes from Ahmed Jaber and Mohamed Jaber, two entrepreneurs from Dubai with a will to make the world a better place to live in.