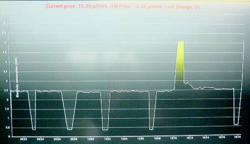 This change in the way energy is used and perceived could allow locally generated renewable energy to become a practical and financially viable option in rural communities.
Stornoway, Scotland, UK (PRWEB UK) 12 December 2012
The Western Isles have the highest levels of Fuel Poverty in Scotland, while at the same time hold massive potential for producing renewable energy. Local answers to a local problem are essential and understanding the situation on both a personal and community level is key.
By generating information on how and when individuals use energy, how households lose energy and how communities can generate energy Lews Castle College UHI is making real inroads into tackling the problem.
There are currently three Energy Saving Projects at the College. OCTES, standing for Opportunities for Community Groups through Energy Storage, is the longest running and started in March 2011.
This project has seen meters set up in 38 households across the Lewis and Barra, measuring energy use. From putting the kettle on to charging your mobile, switching on lights to using your heating, individuals can see where electricity is being used, and how much.
Rhoda Frith who is working on the project explained: "A part of it is about giving people more information about their energy usage. For individuals that's been really helpful. There was one lady down in Barra who mentioned she had approached her landlord about making her house more energy efficient. For individuals it has been really beneficial. The houses that have taken part have been really involved and it gives them the ability to see their energy usage accurately."
But it is also designed to lead to a change in thinking about energy use, where energy availability leads rather than follows consumption. This change in the way energy is used and perceived could allow locally generated renewable energy to become a practical and financially viable option in rural communities.
Ideas like this has led to innovations such as on the Scottish island Eigg, which now is totally energy self-sufficient; and the Shetland Heat Energy and Power Ltd District Heating System, which supplies around 800 islanders with heating generated by a centralised boiler, distributing heat via underground pipes.
In-depth case studies on renewable energy projects are also being carried out at the Lews Castle College by the SECRE Project (Social Enterprise in Community Renewable Energy).
Project assistant Steffi Westerman said she believes community projects are the way forward if renewable energy is to benefit people on the islands. By creating an easily accessible data base that explains the stages behind setting up and running projects, such as the Horshader Turbine on the West Side of Lewis, and highlighting best practice and pitfalls, it is hoped other renewable activities can be encouraged. "The idea was to see how they achieved projects and to let people see how to reproduce that," Steffi explained.
The project is also building on existing work in communicating with local, regional and national and EU policy makers about community enterprises being used to help meet policy targets.
The newest of the three projects, which has been in operation since February 2012 is SuLA(Sustainable Living Assistance) - a home energy supervising service which is aimed at providing information on how energy is lost or wasted in a home. It is believed that by understanding the fuel efficiency of a home, bills could be reduced by 10%, having a significant impact on the number of people in fuel poverty.
Software is used to identify failures and highlight deficiencies in heating systems, allowing maintenance to be carried out in the most efficient and economical way. It also allows households to identify where heat is being lost.
"You can check data and see how much energy you're losing and where exactly it is you're losing it," Monique Watt who is working on the project explained.
"Every home is going to be different...The end result would be to get sensors into more houses."
So far 26 homes have signed up to have the sensors installed and the project is working closely with the Hebridean Housing Partnership. OCTES, SECRE and SuLA were all formed under the Northern Periphery Programme and European Regional Development Fund and all three projects are coordinated by Dr Alasdair MacLeod.
If you would like more information on the OCETS email rhoda.firth@uhi.ac.uk; for more information on the SECRE project contact steffi.westerman (at) uhi (dot) ac (dot) uk or for more on the SuLA project contact monique.watt (dot) uhi (dot) ac (dot) uk