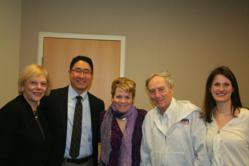 I believe that music can be used as a powerful tool to enhance learning in all other disciplines.
Baltimore, MD (PRWEB) December 13, 2012
Baltimore Symphony Orchestra (BSO) announces the establishment of a Science Advisory Team to serve as a resource to BSO Music Director Marin Alsop and Vice President of Education and Community Engagement Carol Bogash in the development of educational science-themed music programs. The team consists of two eminent scientists: Dr. Charles Limb of the Johns Hopkins University and Dr. Mario Livio of the Space Telescope Science Institute.

Dr. Charles Limb holds a unique dual appointment as the Associate Professor of Otolaryngology-Head & Neck Surgery at Johns Hopkins and Faculty at Peabody Conservatory of Music. He combines his two passions to study the way the brain creates and perceives music. He serves as a hearing specialist and surgeon at Johns Hopkins who performs cochlear implantations on patients who have lost their hearing, with the goal of helping them eventually hear music. His research on creativity and the brain was examined in the recent PBS documentary, "Arts & the Mind," which also profiled the BSO's music education initiative, OrchKids. In this documentary, Dr. Limb emphasizes the importance of stimulating creativity: "When you teach creative thinking through music and the arts, it's really a way to engage the whole brain. If this kind of thinking is ignored, it will be very detrimental not only to that individual, but to society as a whole."
Dr. Mario Livio is an astrophysicist at the Hubble Space Telescope Science Institute and an adjunct professor of Physics and Astronomy at Johns Hopkins University. His research interests cover a broad range of topics in astrophysics, from cosmology and black holes to extrasolar planets and the emergence of life in the universe. Dr. Livio is a self-proclaimed "art fanatic," a passion that has resulted in the collection of many hundreds of art books. He has combined his love for science, mathematics and art in four popular science books that won him international prizes and much critical acclaim. His upcoming book is Brilliant Blunders (to be released May 2013), which profiles legendary scientists whose colossal mistakes led to some of their greatest scientific achievements.
Dr. Livio explains the intersection of his dual passions for art and science: "It is not an accident that a masterwork by the great astronomer Johannes Kepler was called 'Harmony of the World.' In fact, music represented to the Greek mathematician Pythagoras the first evidence that cosmic phenomena could be described by mathematics. I am delighted to be given the opportunity to work with the BSO and to combine science and music into the tapestry we call human culture."
Both Dr. Limb and Dr. Livio have participated in past BSO events. Dr. Limb offered his expertise as a hearing specialist in the popular symphonic play performed in 2008, CSI: Beethoven, which explored Beethoven's life and the deterioration of his hearing. Dr. Livio narrated a performance in 2006 that paired galactic imagery from the Hubble Telescope choreographed to the stirring melodies of Christopher Theofanidis' dramatic Rainbow Body.
Drs. Limb and Livio will periodically meet with Music Director Marin Alsop, Vice President of Education and Community Engagement Carol Bogash, and Annemarie Guzy, Director of Education to create concerts for school age children that build on natural synergies between music and science and math, strengthening student learning in STEAM subject areas: Science, Technology, Engineering, Arts and Math.
"I believe that music can be used as a powerful tool to enhance learning in all other disciplines," says Music Director Marin Alsop. "I have immense respect for Mario [Livio] and Charles [Limb]. Their passion for music coupled with expertise in their respective fields adds new perspective to the BSO's existing music programs for youth in our region. I'm excited to collaborate with them and add a new facet to the BSO's broad and dynamic music education initiatives."
"Throughout its nearly 100 year history, the BSO has offered many programs that explore the intersection of science and music," said BSO Vice President of Education Carol Bogash. "Establishing the Science Advisory Team creates a formal partnership with two eminent, local scientists whose support of past BSO initiatives has already proven invaluable."
About the Baltimore Symphony Orchestra
The Grammy Award-winning Baltimore Symphony Orchestra (BSO) is internationally recognized as having achieved a preeminent place among the world's most important orchestras. Acclaimed for its enduring pursuit of artistic excellence, the BSO has attracted a devoted national and international following while maintaining deep bonds throughout Maryland with innovative education and community outreach initiatives.
The BSO made musical history in September 2007, when Maestra Marin Alsop led her inaugural concerts as the Orchestra's 12th music director, making her the first woman to head a major American orchestra. With her highly praised artistic vision, her dynamic musicianship and her commitment to accessibility in classical music, Maestra Alsop's leadership has ushered in a new era for the BSO and its audiences.
In recent years, Marin Alsop and the BSO have been regularly invited to Carnegie Hall, including Maestra Alsop's debut in February 2008, a critically acclaimed appearance later the same year to perform Bernstein's Mass, further performances in November 2010 and again in November 2011 for a performance of Honegger's dramatic oratorio Jeanne d'Arc au Bucher. The Orchestra under Maestra Alsop undertook their first domestic tour in March 2012 to the West Coast, including a 3-day residency at the University of California, Berkeley.
For more than 80 years, the BSO has maintained a vibrant educational presence throughout Maryland, supporting the local community not only through concerts and recordings, but also through its commitment to actively giving back with its education, outreach and mentorship programs. The 2012-2013 season marks the fifth year of OrchKids™, a year-round in-school and after-school music program designed to create social change and nurture promising futures for youth in Baltimore City's neighborhoods. OrchKids™ provides music education, instruments and tutoring to Baltimore's underserved children at no cost. Since its start in 2008, the program has grown from 30 students to nearly 600 student participants throughout four schools in Baltimore City. The BSO recently launched OrchLab, in partnership with the Montgomery County Public Schools. This music-in-schools program for elementary, middle and high school students in Montgomery County was created to enrich the instrumental music program in schools within the MCPS system that have the greatest need, as well as to provide professional development opportunities for MCPS music instructors. For the 2012-2013 academic year, OrchLab will be piloted in 23 of the schools located in the Downcounty and Northeast Consortia of the MCPS System. OrchLab is an outgrowth of BSO on the Go, the Orchestra's education outreach program that has provided more than 12,000 students with classroom instruction and performances from BSO musicians since that program's start five years ago.
The BSO also provides educational opportunities for adult music lovers through special performance opportunities with members of the Symphony. In February 2010 at Strathmore and September 2010 at the Meyerhoff, the BSO invited more than 400 amateur musicians onstage to perform alongside members of the BSO in "Rusty Musicians" events that captured international attention. This annual event provides participants from across the country the opportunity to meet, rehearse and perform with the BSO and Maestra Alsop. In June 2010, the BSO held its first-ever BSO Academy, an intensive, side-by-side weeklong program of master classes, chamber music, orchestra rehearsals and public performances for amateur musicians and BSO members led by Marin Alsop. The third BSO Academy was held in June 2012.
###