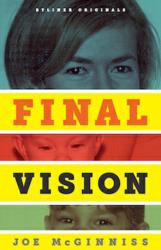 It is the longest-running criminal case in U.S. history, and one of the most horrifying murder cases of its time, with chilling echoes of the Manson Family's "Helter Skelter" killings.
San Francisco, CA (PRWEB) December 12, 2012
Joe McGinniss and digital publisher Byliner are pleased to announce the release of Final Vision: The Last Word on Jeffrey MacDonald ($2.99), the story of the longest-running criminal case in U.S. history and the stunning follow-up to the now classic bestseller Fatal Vision.
The MacDonald case is one of the most horrifying—and controversial—murder cases of its time, with chilling echoes of the Manson Family's "Helter Skelter" killings: a handsome, Ivy League–educated Green Beret Army doctor accused of brutally stabbing and clubbing to death his pregnant wife and two young daughters in the middle of the night. MacDonald was eventually convicted and is serving three consecutive life sentences.
Forty-three years after the murders, the debate around that verdict lives on. MacDonald, now a gray-haired sixty-eight-year-old, continues to attract supporters, most recently acclaimed filmmaker Errol Morris, whose recent book casts doubt on the conviction. The ruling on MacDonald's latest motion for a new trial is due in early 2013, but as McGinniss makes clear in this fascinating, authoritative book, his guilt is undeniable.
To this day, provocative questions still swirl around the murders: What would cause a seemingly happily married man to slaughter his family so viciously, with a wooden club, knives, and an ice pick? Who were the drug-crazed hippies who MacDonald claim broke into his house and committed the crimes? Did the government and the military truly suppress evidence that could prove MacDonald's innocence? And what about the mysterious and deeply troubled Girl in the Floppy Hat?
Nobody is better qualified to address these questions than Joe McGinniss, who was first drawn into the story in 1979, when he began work on what became the definitive account of the case, Fatal Vision. In the years since, MacDonald has never stopped filing appeals and insisting on his innocence. McGinniss, largely silent on the topic for years, finally delivers his rebuttal in this compelling follow-up to his 1983 bestseller.
ABOUT THE AUTHOR: Joe McGinniss is the author of twelve books, including the political classic The Selling of the President, about the marketing of Richard Nixon during the 1968 campaign, and a bestselling trilogy of true-crime books: Fatal Vision, Blind Faith, and Cruel Doubt. He is also the author of the Byliner Serial 15 Gothic Street, which follows events in a county courthouse in small-town New England.
ABOUT BYLINER: Byliner commissions and publishes original stories written to be read in two hours or less. These "e-short" stories are available on phone, tablet, or computer as part of the Byliner subscription service, and can also be purchased individually through digital bookstores such as Amazon, Apple's iBookstore, Barnes & Noble, Kobo, and Google Play. Bestselling Byliner titles include Amy Tan's Rules for Virgins, Margaret Atwood's Positron, Jon Krakauer's Three Cups of Deceit, Ann Patchett's The Getaway Car, Nick Hornby's Everyone's Reading Bastard, and Buzz Bissinger's After Friday Night Lights. On Byliner.com, readers get personalized access to an unmatched library of more than 20,000 fiction and nonfiction stories by the world's best writers, allowing them to easily find, read, save, and share new and classic stories by their favorite authors.
Final Vision is available for $2.99 as a Kindle Single at Amazon, a Quick Read at Apple's iBookstore, a Nook Snap at BarnesAndNoble.com, a Short Read at Kobo, and at Google Play. For an Advance Reading Copy or to schedule an interview with Joe McGinniss, please contact Clare Hertel at clare(atbyliner.com; 505-474-6783.
U.S. v. MacDonald, 641 F.3d 596 (4th Cir.(N.C.), Apr 19, 2011) (NO. 08-8525)
###