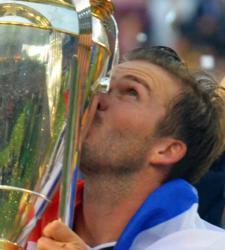 This year after the game, instead of heading back to San Diego for chemo, we got to go back to the media hotel to stay, relax and mix with other photographers, journalists and club owners. It felt like such a milestone.
Los Angeles, CA (PRWEB) December 13, 2012
In September of 2010, Ali Gilmore was diagnosed with stage IV colon cancer, a diagnosis with a mere 8% survival rate according to a study published in the "Journal of the National Cancer Institute", but Ali didn't spend nearly two years going through three rounds of chemo and Cyber Knife surgery on her left lung to win back her life and then just sit idle.
This Seattle native gone SoCal wrote and published "The C Card and Me-How I beat stage IV cancer (to a pulp)", an uplifting cancer survival story that serves as a quick and dirty (just under 70 pages) guide for those newly diagnosed and their loved ones. Not satisfied with that, she started writing music and singing again, pairing her inspirational survival speech with performances of her original, straight from the heart songs to eager crowds, the integration of the music being her way of showing her appreciation for the great lengths taken to save her lung.
That in itself would be a fulfilling life for just about anyone, however being from Washington State, the epicenter of soccer's latest boom, she just couldn't resist another challenge presented to her – to become a soccer photographer.
When the Major League Soccer Cup Final was awarded to Los Angeles, she was thrilled. She'd been shooting for Cascadia site ProstAmerika.com at Galaxy games when Pacific Northwest teams like the Seattle Sounders, Portland Timbers or Vancouver Whitecaps came to town, but this one was massive because of the Beckham story. English heartthrob and international media icon David Beckham had signaled his intent to retire from the Los Angeles Galaxy after the 2012 Cup Final against Houston Dynamo. This would be David Beckham's final game of his career in the US.
"There isn't a photographer in the world that wouldn't want the chance to shoot such an iconic figure as Beckham at any time in his career, but to do so in his last match in MLS was a dream come true for me. I've always loved soccer and am a Sounders fan, although I have to admit spending as much time covering games at the Home Depot Center as I have, I've developed somewhat of an affinity for the Galaxy players. True, they're all easy on the lens, but through it I've witnessed some extraordinary moments of strength, raw emotion and fierce devotion that are just breathtaking."
Ali's photo gallery of this year's MLS cup has been published on ProstAmerika.com. This gallery isn't her first of MLS and she has no intention of making this one her last. She plans to be back next season, but what brought this weekend even more meaning to her was that last year she was too ill to cover the full weekend of events. It was decided she would just cover the game and then head straight back to San Diego to begin her 14th cycle of chemo. "I barely had the energy (or the while blood cell count levels) to cover the match in 2011, but this year I was able to experience all the moments that led up to the big day, the MVP award, the team trainings and news conferences. This year after the match, instead of heading back to San Diego for treatment, we got to go back to the media hotel to stay, relax and mix with other photographers, journalists and club owners. It felt like such a milestone."
In the 18 months that Ali was going through cancer treatments, she never informed anyone at at the LA Galaxy or the other local side Chivas USA of her condition. "I kept it between Prost's writer, editor and myself because I didn't want preferential treatment. Photographing the matches was a great mental break and distraction from it all. I didn't want to risk losing that much needed reprieve."
When the refreshingly humorous book on cancer survival was published however, her story found its way through well wishers to Chivas defender James Riley, whose mother also beat cancer and he offered to help promote the book. Vancouver Whitecaps goalkeeper Brad Knighton has also lent his support as well as the legendary Portland mascot 'Timber Jim Serrill', another cancer survivor.
There was another positive from Ali's presence at the Cup Final. There, her story became known to MLS W.O.R.K.S, charitable wing of Major League Soccer. This is an organization that has put the fight against cancer at its forefront. Ali hopes to share her story with the wider soccer community, to inspire them to fight and to be a shining example of how hope and soccer go hand in hand.
About Ali Gilmore
Ali Gilmore is a freelance photographer, singer/songwriter, professional geek and author of The C Card and Me - How I beat stage IV cancer (to a pulp). Originally from Seattle, Washington, she now resides in the coastal town of Oceanside, California. Discover more about Ali at: http://www.aligilmore.com