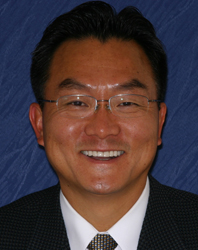 Arlington, VA (PRWEB) December 11, 2012
Dr. Duke Kim is now able to provide a long-term response to lost teeth by using dental implants. Dental implant surgery is a technique that has been proven over the years to be very successful and long-lasting. As a dentist who cares about his patients, Dr. Kim individually consults with his patients to find the best solution for their dental needs.
When a person has lost one or more teeth, it can be embarrassing and may cause them to stop smiling. In addition, the teeth nearby may start shifting to fill the space that is left from the missing tooth. This can cause problems with a person's bite, because the teeth move out of alignment. When teeth do not line up properly, it can be hard to eat.
Dr. Kim uses titanium implants that are capable of fusing with the jawbone after they have been installed. This ensures they are very strong and durable. The dentist carefully places the implant so the alignment and bite will be correct and eating becomes normal again.
Implants can be used to replace one or more teeth, and can even be used to support dentures. Using an implant means the new crown or denture has a secure hold and can function more like the natural teeth. Implant surgery has been studied for more than 50 years and has an excellent success rate. Dental implants lead to better overall oral health than alternate methods of teeth replacement, which are associated with increased complications over time.
Dental implant cost is a concern for some people, but when considering the lasting effects and the money dental implants save in the long run, they can be a successful, long-term investment. Within five to seven years of the initial treatment, there is as large as a 30 percent failure rate in fixed bridges or partial denture replacements. Given the possible complications and essential repair, these options can become more costly in the long-run, particularly for patients who receive replacements earlier in life.
To learn more about teeth replacements with dental implants, visit Dr. Kim's website today at http://www.ballstondentalarts.com.
Ballston Dental Arts is a general practice offering patients personalized dental care for Arlington, VA since 1988. Dr. Duke Kim received his Dental Degree from Georgetown University Dental School and studied at NYU Institute for Advanced Studies in Dental Aesthetics. He is part of one percent of dental professionals providing the most recent FDA cleared laser procedure for gum disease and periodontal treatment. To learn more about Ballston Dental Arts and their dental services visit their website at http://www.ballstondentalarts.com.