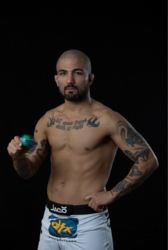 Our new products have even gotten into the hands of professional MMA fighters!
Anaheim, Calif. (PRWEB) December 12, 2012
As a leader in gyroscopic sports fitness training, Dynaflex Sports and Fitness announces the expansion of their revolutionary gyroscope product line. This easy and effective technology provides users with a unique high-intensity workout. Joining the unique gyroscope line is the breakthrough Powerball platinum, Sport Pro Gyro, and deep tissue massage roller. These DFX products aim to improve overall health using the exclusive breakthrough patented technology.
The Powerball Platinum gyro joins the DFX product line by providing users with a visually stimulating dynamic resistant exercise. This compact, yet powerful gyro provides users the challenge to "brighten" their workout with six LED neon lights. The faster the gyro spins, the brighter the LED array.
Also joining the team is the DFX Sports Pro, a perfectly balanced gyro capable of reaching intense speeds generated by the power of the hand. Featured on the cover of Time Magazine as one of its top 10 digital devises, the DFX Sports Pro increases range of motion while strengthening upper body muscles including the arms, elbows, and shoulders. Proven to prevent Repetitive Stress Injuries (RSI), as well as Carpal Tunnel and arthritis, this compact gyro is perfect for extreme athletes or those simply looking to improve overall health.
For those seeking a full body workout, look no further. The Dynamax core trainer is a complete core workout. Weighing less than 3.5 pounds, this trainer produces 200 pounds of resistance in each workout. The internal gyroscope provides unbelievable core and upper body strength in a matter of minutes. Powered by a 2-axis gyroscopic rotor, this breakthrough technology was originally designed for Military Special Forces. The core trainer is now available to all users seeking a high-intensity, full body workout.
DFX understands the additional stress sore muscles can add to the body. The revolutionary deep tissue massage roller aims to relieve stress by digging deep into those painful aches and knots. Designed to reach deep tissue, the massage roller relieves tension and stress while eliminating sore muscles. This dishwasher safe product can be used over clothing and with oils and lotions to maximize muscle relief.
DFX Sports and Fitness prides themselves on their cutting edge technology. Their range of products attracts users of all types and fitness levels. Although originally used for intense military training, the DFX gyro product line still allows users to progress at their own pace. Conforming to one's own strength, the gyro technology has been used to train MMA fighters and first time athletes alike.
About DFX Sports and Fitness:
DFX Sports and Fitness is the original leader and innovator of gyroscopic fitness products, manufacturing a wide range of rehabilitation training and fitness tools through their patented gyro technology. They are the original creator and manufacturer of the patented Powerball Gyro. Established in the late 1970's, DFX has revolutionized the way people improve their physical fitness and is UAL Logo Certified, military endorsed, and PGA Tour Partners Club Member tested and approved. For more information, please visit: mydfx.com.