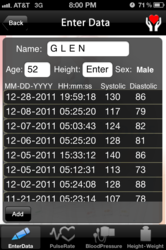 (PRWEB) December 18, 2012
Glen Ogle, creator of the virtual medical app MyBloodWorks, is encouraging pregnant women to talk to their doctor about a recent study published in the journal BMJ, which suggests that women who experience high blood pressure during pregnancy may be at a higher risk of developing heart trouble later in life – especially if they only have one child.
"The study published in BMJ warns that pregnant women who experience hypertension may develop preeclampsia, a potentially dangerous condition that can emerge during the pregnancy's latter 4-5 months," commented Ogle. "In light of this, I strongly encourage pregnant women to speak with their doctors about monitoring and, if necessary, managing their blood pressure to keep it within safe, normal range."
Ogle also suggests that pregnant women discuss with their doctors whether his app MyBloodWorks could be a part of their monitoring plan.
"MyBloodWorks is absolutely not a replacement for medical advice, and doesn't work that way," noted Ogle. "However, many people with a full range of medical conditions, including people like me who have experienced kidney failure, use MyBloodWorks app to track our vitals, and provide reliable information to doctors and other members of a medical care team. Given how simple the app is to use, and how inexpensive it is to download, it could be a helpful tool that keeps moms healthier during -- and well after -- pregnancy."
MyBloodWorks is a virtual medical secretary and database tracks vitals and blood levels, stores emergency contact information, keeps track of pills and medications, tracks past and future physician appointments, and even allows users to take a snapshot of their data and email it to their physician. Plus, since all data is stored locally on each user's iPhone, nothing confidential is ever transmitted to, or by, a third party.
Pregnant women, individuals with hypertension or any other medical condition that requires tracking and monitoring of vitals and blood levels, can download MyBloodWorks from the iTunes store at https://itunes.apple.com/ca/app/mybloodworks/id463529273?mt=8.The app is compatible with iPhone, iPad and iPod touch, and requires iOS 3.0 or later.
For more information or media inquiries, contact Glen Ogle at glen(at)mybloodworksapp.com.
About Gogle LLC
GOGLE LLC is dedicated to creating the best patient medical apps. The company's flagship app, MyBloodWorks, tracks health through vitals and blood tests, and functions as a personal medical filing cabinet and secretary – and all while being simple, easy and intuitive to use. Learn more at http://www.MyBloodWorksapp.com.