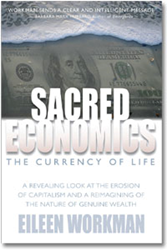 Workman does not blame capitalism for the problems we face. Instead, she questions why we continue to worship the aggressive growth engine that drives our global economy.
Port Angeles, WA (PRWEB) December 12, 2012
Muse Harbor Publishing is pleased to announce that author Eileen Workman will be the featured guest on KONP AM 102.1 FM in Port Angeles, WA at 1:05 PM PST on December 13, 2012. Radio show host Todd Ortloff will be interviewing Ms. Workman about her groundbreaking new book, Sacred Economics: The Currency of Life (available from Amazon, Barnes & Noble iTunes, and Muse Harbor Publishing).
In her book, Ms. Workman offers a logical and inspirational analysis of the problems that are undermining the global monetary system. She also maps out steps individuals and governments can take to move beyond our present economic gridlock to create a more thoughtful, compassionate, sustainable and life-affirming economy.
Ms. Workman spent 16 years in the financial services industry, most recently as a First Vice President of Investments with a major international Wall Street firm. Drawing upon her work experience and extensive research, she presents a powerful argument that the outmoded and corrupted vehicle of capitalism cannot sustain us for another generation.
Ms. Workman does not blame capitalism for the problems we face. Instead, she questions why society continues to worship the aggressive growth engine that drives our global economy. Why is debt necessary? How can society overcome greed? Why does poverty exist? Is a moneyless society possible? By carefully deconstructing our shared, often unexamined beliefs around "making the grade" in modern society, Sacred Economics points to an evolutionary opportunity through which we might re-imagine and redefine human society.
"Before money arrived on the scene, material wealth couldn't be hoarded for very long. Grain crops rotted and livestock died. These facts required people to trade away their surplus before it deteriorated in value, which meant that most of the time, the collective wealth of humanity was either circulating or being consumed. Money changed all that. Suddenly hoarding became a noble goal."
Sacred Economics is written from a non-denominational, spiritually-driven perspective that explains why humans are drawn to the innovation of creative exchange, and how—in the interest of becoming the best we can collectively be—society might direct their attention toward the purposeful design of a more compassionate, cooperative and abundantly flowing economic system. This new economic approach is already being tested in cities and communities around the world, and emulates the successes of nature's synergistic exchanges. The simple steps in this book can help individuals, their company and their local government take the necessary steps toward building a sustainable society.
Tune in to KONP 1450 AM and 102.1 AM, Port Angeles, WA on Thursday, December 13th at 1:05 PM PST to hear more about Sacred Economics, listen live at http://www.konp.com/listen.html, or download the podcast after the show on http://www.konp.com/podcasts/.
For additional information about Sacred Economics or to book Ms. Workman as a guest on your program, contact Margaux (at) museharbor (dot) com.
Based in Santa Barbara, "Innovative Creative Content: What Makes You Different Connects Us All" is a Content Marketing Firm focusing on successful client branding and global marketing through targeted content and storytelling campaigns. For more information, visit their website at http://www.innovativecreative.co or contact them directly at email (at) innovativecreative (dot) co.