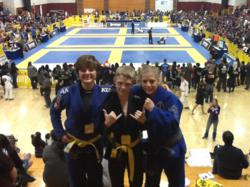 "Crazy 88's afterschool program has gained so much popularity and received such rave reviews that the demand from Jessup parents became too much to ignore." - Julius Park
Jessup, MD (PRWEB) December 13, 2012
This month Crazy 88 Brazilian Jiu-Jitsu, the Premier Youth Martial Arts program in the Baltimore area, has expanded its afterschool care and pick up program to students of Bollman Bridge Elementary.
Howard County parents are thrilled with Crazy 88 aftercare program, as their children receive tutoring and world class martial arts training. The aftercare program includes pickup, homework and martial arts; a balance of academics and athletics is beneficial for the growth of a confident youth.
Head instructor Julius Park gave the reasons for the change, "Crazy 88's afterschool program has gained so much popularity and received such rave reviews that the demand from Jessup parents became too much to ignore."
Crazy 88 Brazilian Jiu-jitsu, a 15,000 square feet facility with an experienced staff, offers an aftercare program that allows students to excel in academics and athletics. After getting picked up, the students will work with the college-educated staff on their homework. With school work completed, the young athletes then receive a high-energy 45 minutes martial arts class instructed by world-class instructors.
What separates Crazy 88 Brazilian Jiu-Jitsu's afterschool program from any other aftercare program in the Baltimore area is the level of coaching the children will receive. All the instructors at Crazy 88 Brazilian Jiu-Jitsu have professional and international level experience in Brazilian Jiu-Jitsu, Muay Thai Kickboxing, and Mixed Martial Arts.
Some schools may be able to boast a local "champion" instructor at their academy, but most likely they got that instructor from somewhere else. At Crazy 88 Brazilian Jiu-Jitsu all the instructors are "home grown", meaning they came up in the system, in some instances from adolescents.
Crazy 88 Brazilian Jiu-Jitsu has an amazing track record of turning children into champions. As a member of Team Lloyd Irvin, Crazy 88 is a part of the best Youth Brazilian Jiu-Jitsu team in not only America, but also the World.
If you have a child that attends Bollman Bridge Elementary School and would like to learn more about Crazy 88 Brazilian Jiu-Jitsu's Afterschool pickup program please visit the website - http://www.GiveYourChildConfidence.com