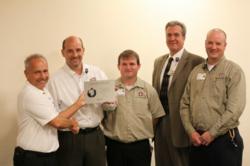 Flora, Indiana (PRWEB) December 13, 2012
This month marks the one-year anniversary of Brenneco Fire Protection's Sprinky Award. Named after Brenneco's own fire protection dog, this nontraditional marketing initiative has helped build clients' commitment to doing what's right when it comes to fire protection.
The award is a new take on the traditional loyalty rewards program. Since December 2011, Brenneco's Sprinky Award-winning clients have received recognition through an e-newsletter, press releases, social media updates, YouTube videos and blog posts produced and distributed by Brenneco Fire Protection. Many clients have also enjoyed media recognition, all of which result in the building of goodwill within the client organization and throughout the community.
"Here at Brenneco, we are all about advancing fire safety. Doing the minimum requirements is just that — the minimum. We want to encourage our clients to continue to go the extra mile to protect their people and facility, so we instituted an award they can proudly display," says Eric Flora, owner of Brenneco Fire Protection. "The Sprinky Award serves as a reminder to the entire organization that they are part of a group committed to doing things right."
The award, a handsome metal plaque engraved with the winner's name, recognizes clients who go above and beyond to protect their organization from the threat of fire. This means the client exceeds what is expected of them as it relates to the fire code by taking special measures to ensure the safety of their clients, employees and building from fire damage.
Sprinky Award winners include the following:

Granite Management, November 2012
West Lafayette Menards, October 2012
Kokomo Civic Center, August 2012
IU Health Arnett, July 2012
Cook Biotech, April 2012
The City of Lafayette, December 2011
Brenneco Fire Protection
Brenneco Fire Protection, based in Carroll County, serves all of Central Indiana with the best defenses in fire protection. Our expert team provides installation, service and inspection services for customers who believe that keeping their businesses and homes safe is a top priority. We service any size industrial, institutional, commercial or residential building. Being trusted advisors for our customers and providing the best safeguards in fire protection are at the foundation of our operations. Check out the fire inspection checklist to find out how well you are protected from the threat of a fire.