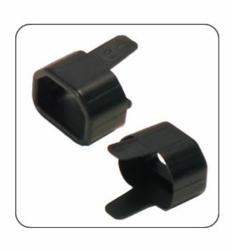 Are you having connectivity issues between IEC C13 Outlets and C14 Power cord plugs?
Union City, CA (PRWEB) December 12, 2012
Based out of Union City, California, SFCable.com is one of the leading power cord and adapter suppliers in North America.
Currently, SF Cable provides a complete line of standard and custom power cords and cable assemblies for virtually any interconnect or power solution in the security, computer, wireless, medical and networking environment.
Recently, SF Cable introduced the IEC C14 Secure Sleeve, which is the world's first tightening sleeve for the connections between IEC C13 and IEC C14 plugs on power cords.
The reason for this is that most server rooms and data centers attach their computer equipment to a power distribution unit. Due to differences, the connection between an IEC C13 outlet on the power distribution unit and the EIC C14 power cord can jiggle lose. If that happens, mountains of data can be lost and important network streams can be cut off.
Now, SF Cable has provided the inexpensive solution to ensure this does not happen. It does not matter what company makes the cord or power distribution unit, the IEC C14 Secure Sleeve will keep everything running smoothly. It does all this for under one dollar.
"We are so pleased to be able to offer a true universal solution to our data center OEM customers. These products are already hugely popular in the short time they have been available," Duangtip Truong, president and CEO of SF Cable, said. "We are pleased to offer the same type of product for the IEC C13, C19 and C20 power cord plug."
To learn more about SF Cable and their products, visit http://www.sfcable.com , call Toll-Free: 1-888-275-8755 Local: 1-510-324-2299,or stop by Booth 35508 in the LVCC, South Hall 4 at 2013 International CES Trade show on January 8-11, 2013