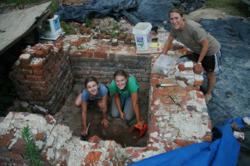 Boulder, Colorado (PRWEB) December 13, 2012
Adventures in Preservation (AiP) announces an alliance with Gloucester County Parks, Recreation and Tourism to promote hands-on learning at Fairfield Plantation near Gloucester, Virginia. This combined historic preservation and archaeology project is part of ongoing work carried out by The Fairfield Foundation to uncover information about plantation life from as early as 1694. Volunteers will learn and apply hands-on skills used in both professions to further work at the site.
AiP and Gloucester County will work together to bring volunteers for the week-long volunteer vacation scheduled for August 25-31, 2013. Focus will be on remains of the1694 manor house, destroyed by fire in 1897. All that is left of the house is its substantial brick foundation and rubble-filled cellar.
Volunteers will help reveal the long-lost layout and design of the manor house. This project is a rare opportunity for anyone, regardless of experience, to try their hand at both archaeology and historic preservation. Activities will include excavating adjacent to the building foundation as well as repairing and re-pointing the foundation, demonstrating the hand-in-hand nature of archaeology and preservation.
The goal is to help visitors understand the significance of this manor house, how it related to the landscape, and how it affected the lives of the owners and the enslaved workers who toiled at Fairfield for over two hundred years.
Gloucester County Parks, Recreation and Tourism has supported and partnered with The Fairfield Foundation on a number of projects. In 2011, when the roadway around the Courthouse Circle was reworked, historic sites within and surrounding Virginia's oldest Colonial Courthouse were uncovered. The Fairfield Foundation team discovered and documented outstanding artifacts.
The area is rich in history from the site of Captain John Smith's encounters with Pocahontas, to Revolutionary and Civil War sites, to nearby Jamestown and Williamsburg. Gloucester Parks, Recreation and Tourism along with the Chamber of Commerce and Main Street Association partners look forward to bringing participants to the 2013 Fairfield project.
For additional information on this volunteer-powered preservation project, contact Judith Broeker or visit adventuresinpreservation.org.
Adventures in Preservation is a non-profit organization connecting people and preservation through enriching experiential programs. AiP's one- and two-week hands-on volunteer vacations give travelers the opportunity to truly experience their destination and learn hands-on skills. Volunteers help save valuable historic buildings vital to economic and environmental sustainability of the project community. Learn more at http://www.adventuresinpreservation.org.
Contact:
Judith Broeker
Adventures in Preservation
303.444.0128
http://www.adventuresinpreservation.org