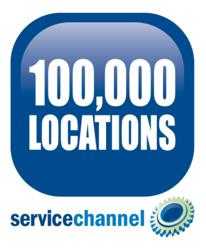 With the right mix of tools and technology our clients can do more with less.
New York, NY (PRWEB) December 18, 2012
ServiceChannel, the market leader in facilities management/contractor collaboration, has reported that it's technology platform is now in use at over 100,000 locations in 24 countries worldwide by some of the largest brands in retail, restaurants, hospitality and banking.
"We've always believed that with the right mix of tools and technology our clients can do more with less," said ServiceChannel founder and CEO, Steven Gottfried, "100,000 locations is proof that our industry agrees and that there is another alternative to outsourcing."
ServiceChannel provides facilities professionals who are managing multiple locations with a virtual toolset – including access to a rich commercial contractor database, a single technology platform, and call center services - so they can directly communicate, collaborate and control costs with their contractors online.
"Facilities management clients are typically understaffed and overburdened with maintaining their facilities programs with limited resources," said Mr. Gottfried, "Our solutions not only help them do more with less but also provide value throughout their organization – including sourcing, operations, accounting and finance departments."
ServiceChannel counts among it's clientele the top five most profitable retailers and four of the ten fastest growing restaurant chains in the U.S., according to RetailSails 2012 and the Technomic Top 500 Restaurant Chain Report, respectively. To date, clients have processed over 30,000,000 work orders across the platform.
With a history in contractor management software, ServiceChannel's founders saw a need in 1999 to provide retail facilities managers with increased and immediate visibility to facilities service data. ServiceChannel evolved their products online, initially offering retail and restaurant chains access to a comprehensive database of service information and performance metrics. ServiceChannel has been awarded two Vendor Excellence Award from Nike in 2010 and 2012. The Professional Retail Store Maintenance Association (PRSM) named ServiceChannel as Vendor of the Year in 2011.
About ServiceChannel
ServiceChannel provides facility managers with a single platform to source, procure, manage and pay for facility maintenance services from commercial contractors. By providing a real time, web-based view of service data across all trades, locations and contractors, facility managers drive significant ROI for their organizations without outsourcing or investing in new infrastructure. More than 35,000 contractors use ServiceChannel every day at over 100,000 locations in over 24 countries. For more information, please visit http://www.servicechannel.com