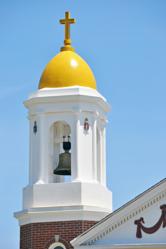 "Nobody can tell that they're there unless they're sharp-eyed and looking for them."
Charleston, SC (PRWEB) December 14, 2012
STEALTH® (http://www.stealthconcealment.com), the company that invented 'wireless concealment' 20 years ago, is skilled at hiding wireless infrastructure in plain sight. Increasingly, they are helping churches and other organizations with highly-placed capacity to make the most of their air space.
As the use of smartphones, tablets and other wireless gadgets steadily increases, so does the demand for the wireless signal that powers these devices. Carriers need more towers and bigger antennas to fuel this "wireless world." As a result, carriers have become quite creative in finding the right space for their Radio Frequency-transparent (RF-transparent) systems.
Several factors make churches an ideal location for wireless technology. From municipalities focused on aesthetics to residents protecting their turf, combative forces have made constructing new wireless towers increasingly difficult. As a result, wireless carriers across the country seek ready-made spaces where they can install their systems.
Aware of this opportunity, churches are now making serious money by leasing their structures to carriers. It is estimated that churches can receive anywhere from $2,000-$4,000 a month by leasing their otherwise unused space to numerous competing wireless carriers.
But they needn't sacrifice aesthetics in pursuit of those funds. STEALTH'S artists are masters at verisimilitude and have two decades of experience blending concealments with their surroundings. Pastor Martin Scales, leader of one of STEALTH's recent site locations, noted of the antennas: "Nobody can tell that they're there unless they're sharp-eyed and looking for them."
When it comes to renting out steeples, height is key; wireless transmission relies on an unimpeded signal, which drives the need to transmit the signal above the surrounding area. Churches are also often located in the middle of towns and cities, surrounded by high concentrations of people.
Consequently, the combination of elevation and central positioning make steeples and bell towers the ideal place to install antennas. Though the value of a congregation's air space depends entirely on the demand for signal in that area, churches can look to future-proof their assets by proactively seeking concealment.
About STEALTH:
STEALTH® Concealment Solutions was founded in 1992, and was the first U.S. company to engineer and construct antenna concealments for the wireless industry. The company has full manufacturing capabilities as well as a nationwide sales network. From church towers and flagpoles to cacti and trees, STEALTH has experience making every type of concealment and excels at finding solutions for difficult sites. The company's proprietary StealthSkin™ technology allows signals to pass through the concealment with minimal loss. Today, STEALTH® spearheads more than 750 concealment projects nationwide per year for all wireless carriers.
In 2000, STEALTH won the "Best Design/Multi-Tenant Site Excellence in Business Awards" at the Tower Technology Summit, and was selected to design chimney concealment for the International CTIA Wireless trade show's Wireless Home in 2005. STEALTH has been honored by the Charleston Metro Chamber and the Tower Technology Summit. The company's work has been featured in RCR Wireless, TIME Magazine, the Los Angeles Times, CBS and on about.com. Their Fairfield CT Windmill was recently named Site of the Month by the editors of AGL magazine.
For more information, call 800-755-0689.