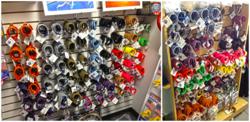 A lot of Americans don't have jobs right now. If we can all spend just $64 this holiday we can collectively create 200,000 US jobs. Feel better about your purchases that are American. Not only are you supporting a US based company, you're saving Jobs
Elma, New York (PRWEB) December 13, 2012
The team behind the Armed Forces Soldier Bands will be at the Made In America Store's annual holiday event, appropriately titled, 'The Great Made In America Store Christmas.' During the event, the Made In America Store will host live performances, food catering, Santa Clause and much more!
100% US manufactured products from over 300 different vendors all under one roof; the Made In America Store.
Armed Forces Soldier Bands is a vendor that sells key chains and bracelets at the Made in America Store. What makes these "accessories" so special is that they are manufactured out of paracord. Paracord, or Parachute cord, is used to attach military personnel to the parachutes. To be able to hold the weight of the person and all the equipment, the material needs to be very strong. Simultaneously, the Paracord makes for the perfect survival tool in more functions than one.
What makes the company behind Armed Forces Soldier Bands even more respectable is that the workforce behind the company is US Veterans. With the job market growing at such a slow rate, employment is hard to find. The media focuses on students getting out of school not landing a job because of a poor job market but military veterans just getting out of service have an even harder time. Armed Forces Soldier Bands help by offering some Military Veterans a job.
"Like" the Facebook page of the Made In America Store to keep up to date with the news, promotions and giveaways!
The Great Made In America Store Christmas will start at 10am and go until 4pm. The event will be catered by Dale's Rollin' Smoke BBQ, where he will be offering his signature Barbacued Hamburgers, Hot Dogs, Salt Potatoes and Chicken Wing Soup. People that visit the Made In America Store for the event will be given a chance to win a Christmas Tree from local farmer, Berner's.
The Made In America Store will be presenting Nashville Recording Artist, Ricky Lee. Ricky teamed up with the Made In America Store back in April of 2010 and since then, Ricky has performed numerous Made In America Store events, Country Music Concerts and Charity events. Fans and Made In America shoppers can enjoy some of Ricky's original songs, Country hits of today and some Christmas jingles.
For the children, the Great Made In America Store Christmas will have live alpacas and Santa Claus is schedule to make a visit. Matt Hannah from 'Insane Chain' will be on sight all day long sculpting something special for the holiday season. Matt, with his uncanny ability to sculpt with just a chainsaw, has been at every Made In America Store events. Matt even has some of his artwork for sale at the store.
The Great Made In America Store Christmas will also bring some of the store's vendors out to display their US made products. Robin Tolsma, Bubble's BBQ Sauce and Baldwin Hill Farm will all make a presence for the Christmas event. Robin Tolsma, the author of "Everything Changed," will be doing live book signings and interviews. Bubble's BBQ Sauce will on site to sample their signature sauce for anyone to try. Baldwin Hill Farms will also be at the event giving samples of their products. Baldwin Hill Farms is known for their Maple Syrup and delicious Maple Candies sold at the Made In America Store.
Back in 2007, Mark Andol had lost a multimillion dollar contract to a Chinese manufacturer at his steel fabrication facility, General Welding & Fabricating. The loss was so catastrophic; Mark was forced to lay off a third of his workforce just to stay afloat.
"It was one of the hardest things I had to do during the holiday season," said Mark Andol. "Christmas just isn't the same when you have to lay off your brother-in-law."
Mark Andol, owner and creator of the Made In America Store, would like to let everyone know there is more to the store and the event than just a time to have fun. Mark makes it known to everyone that visits the store this time of year, it's more important than ever to buy American.
"A lot of Americans don't have jobs right now," said Mark Andol. "If we can all spend just $64 this holiday, we can collectively create 200,000 US jobs. Feel better about your purchases that are American. Not only are you supporting a US based company, you're saving and creating jobs this Christmas season."
The Made In America Store is the only brick and mortar store that sells 100% made in the United States products from over 350 vendors. Consumers can visit http://www.MadeInAmericaStore.com or call 716-652-4872 to get more information or shop our catalog of over 3,500 items. Both Active Duty Military Personnel and U.S. Military Veterans receive a 10% discount every day. Followers of the "Made In America" movement can keep updated with the Made In America Store through Facebook, Twitter, Google+, Pinterest, FourSquare and even their own blog on Wordpress!