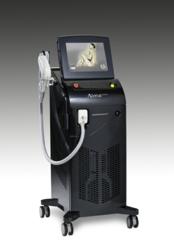 Soprano; Alma Lasers virtually pain free solution for laser hair removal
Caesarea, IL (PRWEB) December 18, 2012
Alma Lasers, the world's leading developer of laser, ultrasound and RF technologies for aesthetic, dermatology and surgical procedures, together with its UK partner ABC Lasers, were awarded three medals at the Aesthetic Awards show, an industry event promoting the best of the medical aesthetic industry.
The first gold medal was granted for the best equipment brand, an award which Alma Lasers and ABC Lasers have achieved for the second consecutive year. The second gold medal for best aesthetic procedure was awarded to the Soprano; Alma Lasers virtually pain free solution for laser hair removal, while a third silver medal for best new product innovation was presented to Alma Lasers ClearLift Laser. ClearLift is the world's first fractional non-ablative 1064 nm Q-Switched laser, a revolutionary product that has been coined the "Lunch Break Facelift" for providing dramatic results for aging skin in just minutes with no pain and no downtime.
With a total of 30 categories, the annual Aesthetic Awards in association with the Cosmetic News is the premier awards ceremony for the medical aesthetic industry. It was established to recognize those who have gone above and beyond in their innovation, dedication and service within the aesthetic industry.
Guy Goudsmit, Managing Director of ABC Lasers accepted the awards at the show. "ABC Lasers and Alma Lasers being awarded gold winner of Equipment Brand for a second year is testimony to the clinical and commercial success which our clients have achieved. In addition, Soprano winning a gold medal for treatment of the year proves again the superiority of our pain free solution for hair removal. And while ClearLift won silver for product innovation, I am confident that next year it too will receive a medal for best treatment."
Alma Lasers VP of Sales & Marketing, Mr. Lior Dayan, praised ABC Lasers on this achievement, "With many thanks to ABC Lasers for their hard work and dedication, Alma Lasers and Soprano have become synonymous with the very best in UK aesthetic care. I look forward to seeing many more awards in the future."
About Alma Lasers:
Alma Lasers is the leading supplier of innovative medical aesthetic, dermatological and surgical technologies. Alma Lasers is recognized by industry practitioners for its whole-hearted commitment to providing complete solutions to professional practices. Through a portfolio of over 20 different systems, Alma Lasers provides dermatologists, plastic surgeons and other medical professionals a noninvasive solution for nearly every treatment.