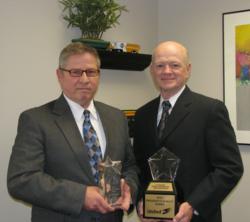 ST. LOUIS, MO (PRWEB) December 14, 2012
J.H. Bennett Moving & Storage, Inc., Erie, Pa., an agent of United Van Lines, has received the 2012 United Van Lines President's Quality award, which recognizes the top service achievement in the carrier's U.S. family of affiliated moving agencies.
The selection of J.H. Bennett was announced by Richard H. McClure, CEO of United and President of UniGroup, United Van Line's parent company. United Van Lines is the nation's largest mover of household goods.
J.H. Bennett is the 17th recipient of the annual award, which was established in 1994. The company earned the recognition on the basis of its quality service performance in accordance with United's five-step quality service process, as measured by data generated through a comprehensive survey completed by customers after the move. During his recognition of J.H. Bennett, McClure said, "J.H. Bennett not only has incredible quality scores, but the company puts an emphasis on safety as well demonstrated by its strong safety performance ratings."
J.H. Bennett has been in continual operation since 1914 and is one of Pennsylvania's oldest moving companies. J.Gordon Naughton is President of this third-generation family owned business. Naughton is very proud of his team and their commitment to excellence as J.H. Bennett has evolved from serving just the Erie, Pa. community to spanning across the country and around the globe.
In addition to the President's Quality Award, J.H. Bennett was recognized as a Customer Choice Award winner, which is the fourth time the company has received the honor.
About United:
United Van Lines is America's #1 Mover®. In cooperation with its sister company United Containers, United Van Lines is able to offer a full range of moving solutions from do-it-yourself to full-service. With headquarters in suburban St. Louis, United Van Lines maintains a network of 400 affiliated agencies. For more information about United Van Lines and United Containers, visit: UnitedVanLines.com or UnitedContainers.com.