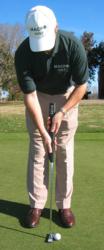 Almost impossible to hit offline. It changed my game.

Tester, Golf Magazine Field Test.
(PRWEB) December 18, 2012
In a statement today, Richard D. Ferris, CEO of Macro Golf Inc. indicated that the company's patented, elongated, over-sized putter grip called the Square Stroke produces an efficient, no yips, long/belly putter-like "square-to-square" stroke without the necessity of the long and belly putter USGA and R&A non conforming stroke "body anchoring."
Ferris, also the inventor of the Square Stroke grip, stated that Macro Golf's unique reducing-oval, forward-shaft-offset design uses an efficient ten-fingered, partial or full split-grip hands placement to quiet the hands and lock the wrists. He further stated that this innovation produces a straight back and straight through stroke, efficiently maintaining the putter face square to the chosen line to the target. According to Ferris, this is similar to the straight back and through stroke of an anchored belly putter, which players use chiefly to eliminate the tension altering timing manipulations always required to "square" traditional shorter shafted arc-stroking putters just at the moment of impact.
Ferris further explained that although the recommended hands position, set-up and stroke with the Macro Square Stroke grip is similar to belly and long putters, Macro putters and grips, because of their innovative shape, do not have or need the non conforming body anchoring component so vital to the efficient use of long and belly putters. Dr. Ferris confirmed that Macro Square Stroke Putter grips are officially ruled as conforming by the USGA.