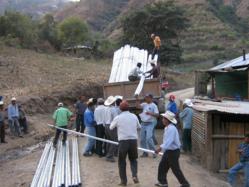 "This urban upgrading project is an exciting model for other similar vulnerable communities in developing countries," stated George Guimaraes, CEO of PCI.
Mixco, Guatemala (PRWEB) December 14, 2012
PCI (Project Concern International) was awarded a $2 million Cooperative Agreement from the U.S. Agency for International Development's Office of Foreign Disaster Assistance (USAID/OFDA) to transform high-risk urban neighborhoods in the Municipality of Mixco, Guatemala, into healthier, safer and more productive communities. The 24-month project, called Barrio Mío, is a joint collaboration of international and government agencies, municipal authorities, private sector firms, universities and research institutes to sustainably address the unplanned growth and associated risks of communities like those found in Mixco, which represent many of the same characteristics of other metropolitan cities worldwide.
Mixco is Guatemala's second largest city and one of the most densely populated, with more than 710,000 residents living on 123 km² of land (average 5,379/km²). Three-quarters of Mixco's land area is hillside, and home to more than 30% of the population who live along the edges and are at perpetual risk of landslides, erosion or flooding caused by rainwater runoff. Moreover, the region sits along a major fault line and within Guatemala's high-risk southern hurricane belt. In addition to geographic risks, Mixco is characterized by gang violence and ranks the second highest in homicide rates across the country, after Guatemala City.
Barrio Mío is designed to achieve maximum scope and impact to reduce Mixco's vulnerability by improving shelters and reconfiguring dangerous settlements, upgrading basic water and sanitation services and infrastructure, and developing economic assets of Mixco's most vulnerable households, while strengthening municipal capacity to manage rapid urban growth. The model is based on PCI's "neighborhood approach" which mobilizes local communities to identify and address their own development needs based on available resources and local solutions. The model, first piloted in Port au Prince Haiti, in the aftermath of the 2010 earthquake, is an integrated, participatory and consultative planning and action process that centers on what communities know best about how to improve their lives.
Over a period of two years, the Barrio Mío project is expected to pilot, test, improve and replicate strategies for reducing community risk and enhancing resiliency in high risk neighborhoods of Mixco, directly benefiting more than 3,600 households. In additional as a model program, it is expected that the results and approach plotted in Mixco will have influence on urban upgrading efforts throughout the region and beyond.
Additional information about Barrio Mío can be found at http://www.pciglobal.org/en/americas/guatemala
The Barrio Mio project is made possible by the generous support of the American people through the United States Agency for International Development (USAID). The contents of this press release are the responsibility of PCI and do not necessarily reflect the views of USAID or the United States Government.
Celebrating its 50th anniversary in 2011, PCI (Project Concern International) is an international health, development and humanitarian assistance organization, operating in 16 countries worldwide. PCI is dedicated to saving lives and building healthy communities around the globe, benefitting over 6.7 million people annually in Asia, Africa and the Americas. Funded by federal grants and private support, PCI's current annual budget is nearly $50 million and the organization has 600 employees worldwide. PCI's headquarters are located in San Diego, CA and also has an office in Washington, DC and a Seattle, WA representative.