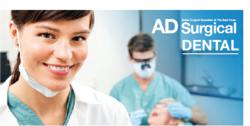 Although our name has changed, our commitment remains the same
Sunnyvale, CA (PRWEB) December 14, 2012
Applied Dental Inc. today announced and introduced a new corporate identity. Starting in 2013, Applied Dental will become the dental division of AD Surgical. Capitalizing on over 10 years of business with dental professionals, AD Surgical will continue to refine its focus on customer preferences, loyalty and its ability to meet the diversified needs of dental professionals worldwide.
"We see ourselves as a progressive surgical and dental company. As we continue to broaden our product lines and offerings to different medical specialties, we want our customers to know it all starts and stops with them. Quality, innovation, a superior level of customer service and affordability are all paramount", said Dr. Brian Tang, President of AD Surgical. "Although our name has changed, our commitment remains the same - to improve the efficiency of dental procedures by offering a wide range of products with convenient features that add value."
About AD Surgical: As the prices of surgical products continue to skyrocket, most surgeons are looking for more cost effective solutions without compromising quality. AD Surgical is a unique company that provides the highest quality surgical essentials at very reasonable prices. All of their products are designed and developed in the United States by a team of licensed medical professionals. 90% of their products are manufactured in their own manufacturing facility, which allow them to offer top quality products at factory direct prices that are up to 80% lower than that of competitors. More information is available at http://www.AD-Surgical.com.