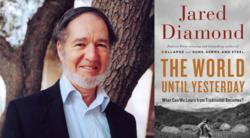 La Jolla, California (PRWEB) December 14, 2012
In his new book "The World Until Yesterday: What Can We Learn From Traditional Societies," Pulitzer Prize-winner Jared Diamond provides an epic journey into our rapidly receding past, revealing how tribal societies offer an extraordinary window into how our ancestors lived for millions of years – until virtually yesterday, in evolutionary terms - and how they can provide unique, often overlooked insights into human nature.
Diamond will submit his findings in a free lecture at 7:00 p.m. January 23, 2013 at the UC San Diego Price Center Ballroom. This event, a presentation of the UC San Diego Helen Edison Lecture Series, is free and open to the public.
Drawing on his own fieldwork spanning nearly five decades of working and living in New Guinea as well as evidence from Inuit, Amazonian Indians, Kalahari San people and other cultures, Diamond explores how tribal peoples approach essential human problems -- from childrearing to old age to conflict resolution to health -- and discovers there is much to learn from these traditional ways of life.
Diamond contends the West achieved global dominance due to specific environmental and technological advantages, but Westerners do not necessarily have superior ideas on how to raise children, care for the elderly, or simply live well. Diamond will provide a firsthand picture of the human past that also suggests profound lessons for how we can live today.
Diamond is the Pulitzer Prize-winning author of the "Guns, Germs, and Steel," voted one of TIME magazine's top 100 nonfiction books of all time, and "Collapse," a number one international bestseller. A professor of geography at UCLA and a noted person of wide ranging interests, Diamond's work has been influential in the fields of anthropology, biology, ornithology, ecology and history, among others.
In accordance with a major gift from a late philanthropist, the Helen Edison Lecture Series presents ongoing free public lectures on issues that advance humanitarian purposes and objectives. Previous speakers in the series, attended annually by thousands, include His Holiness the 14th Dalai Lama, former Vice President Al Gore, Nobel Peace Prize winner Muhammad Yunus, double Pulitzer Prize winner Nicholas Kristof, Nobel Prize in Literature winner Toni Morrison and Hispanic dramatist Luis Valdez, just to name a few.
For parking information and more, visit http://helenedison.ucsd.edu
About UC San Diego Extension (extension.ucsd.edu )
As the continuing education and public programs arm of the university, UC San Diego Extension educates approximately 56,000 enrollees a year, which translates to about 26,000 students in nearly 5,000 courses.  UC San Diego Extension is recognized nationally and internationally for linking the public to expert professionals and the knowledge resources of the University of California.