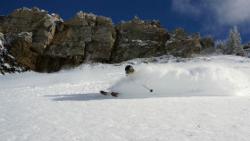 It is now easier than ever to book and plan your Alta vacation!" —Kylie North, Discover Alta Coordinator
Alta, UT (PRWEB) December 16, 2012
Alta Chamber & Visitors Bureau (Discover Alta) now provides online booking services for overnight accommodations in Alta, Utah. Visitors will find the convenient direct booking service on the homepage of DiscoverAlta.com as well as at the top of lodging information pages and lodging specials page.
New for Alta's 75th season, the online booking feature allows visitors to search by date for available lodge rooms, condos, and private homes. Guests can also view the rate calendar for a particular property, to see the different prices throughout the year. Once a property is selected, the visitor is fed to the individual property website to complete the reservation. The Alta Chamber has never offered an online booking option before.
"This new service is a game changer for us. Now Alta skiers can go to one convenient location, DiscoverAlta.com, input their vacation dates and book directly from our site," said Kylie North, Coordinator of Discover Alta. "It is now easier than ever to book and plan your Alta vacation."
The Discoveralta.com site is a virtual visitors bureau, providing visitors with the ability to gather information about the entire area while planning their vacation to Little Cottonwood Canyon, Utah. The Town of Alta is set around Alta Ski Area, which provides lift service, ski rentals, and on-mountain dining, while several independent businesses located on the mountain or near the base facilities offer lodging, shopping and other dining opportunities.
About Alta Chamber and Visitors Bureau (Discover Alta)
Discover Alta was formed in 2011 to promote Alta and Little Cottonwood Canyon as a world-class mountain resort destination, and to enhance the visitor experience. Discover Alta is the official tourism site for Alta, Utah, and functions with the assistance and support of the private business community, individual memberships and the Town of Alta.