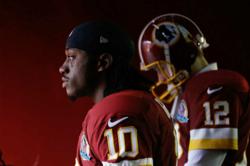 I'm trying to perform at a high level and show either these coaches or those around the NFL what I can do.
(PRWEB) December 15, 2012
The most winning Quarterback in the history of Michigan State football might get the chance he has waited his whole life for this Sunday. Lynx Shreds Athlete Kirk Cousins might possibly be the Redskins starting quarterback this weekend due to RG3's right knee injury in last Sundays game vs. the Baltimore Ravens. RG3 sprained his right LCL in his knee when he was tackled by Haloti Ngata late in the 4th quarter. Once the injury happened, back up rookie quarterback Kirk Cousins took the field and threw a touchdown and ran in a two point conversion to tie up the game which lead to overtime. After the Redskins defense stopped the Ravens first possession they got the ball back and won the game with a field goal 31-28.
If Kirk has to start Sunday against the Cleveland Browns, teammates and coaches have no doubt in Cousins' ability to keep the Redskins' winning streak alive.
"My dad said to me for a long time when I was struggling to see if I was going to play at Michigan State, he said, 'Kirk, the cream always rises to the top. If you're good enough, in time, you'll get your shot. And if you're not, you won't,"' Cousins recalled. "I'm not worried about it in the sense that if I'm good enough, I'll be able to show people over time what I can do, and if I'm not, I won't."
Cousins is a Lynx Shreds Athlete along with several other current NFL and NBA stars that promote the clothing brands' lifestyle and vision. "The Lynx vision lives through pushing your friends/teammates and yourself to get better and go bigger and harder in every physical activity that you do. Putting in the work and time to improve at your sport and following your passion to the extreme. If Cousins gets the opportunity to start this Sunday he will do just that."
That vision is the heart and soul behind Lynx Shreds: "Lynx Shreds isn't just about the clothing but about what you are doing and where, but it's also who you are doing it with and giving it everything you've got. Pushing yourself and your friends to make each other the best you can possibly be. The company is creating apparel that is constantly changing to meet the needs of the hard-charging athletes such as Kirk doing what they love."
With this type of vision Lynx Shreds has, the brand produces MMA gear, along with a surf clothing, skate clothing, and other extreme sports style theme. If you or other athletes you know can relate to the Lynx Shreds vision, then Lynx apparel would be the perfect fit. Lynx is now running a christmas sale on their website listed below.