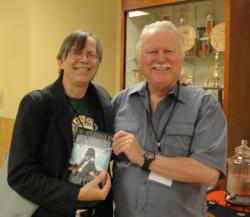 MOOCs and technology such as the iPad are disrupting Education.
Atlanta, Georgia (PRWEB) December 31, 2012
In the over forty years since he attended Georgia Tech, James O'kon has seen many aspects of engineering and technology change. Now, as the author of a book on ancient Maya technology, he is seeing changes occur in how technology is taught. O'Kon says, "Many things about my two favorite subjects, technology and the Maya, are hard to describe in words. Often the concepts require images as well as words for people to find them understandable. This is true for my book, The Lost Secrets of Maya Technology. So when my friend, Dr. Mark Van Stone, created an interactive version of his book 2012: Science and Prophecy of the Ancient Maya, I saw this as a great teaching tool for engineering."
The interactive iBook addresses only one student at a time but greater benefits can come from teaching complex engineering classes online with the "visual aids" that an online class can offer. My Alma mater, Georgia Tech, has been chosen to create massive open online courses or MOOCs for introductory engineering classes. I feel this concept will change how we teach science and technology. We will see this type of technology used so that complex subjects can be presented in visual ways allowing teachers to reach students as never before. More of my thoughts on this and other educational technology subjects like edX and MOOCs are in my Blog on my website.
James O'Kon has pursued a lifelong passion for the engineering, sciences and technology of the Maya. In his role as an archaeo-engineer he has combined his unique professional engineering experience with the search for lost Maya technology. After years of collecting field data, obtained by traveling in dugout canoes, hacking his way through the jungle and sleeping in tents, he was able to use his forensic engineering skills, along with modern digital tools, to reveal the mysteries of lost Maya technology.
His discoveries in Maya technology have been recognized by, among other publications, National Geographic Magazine and in a production on The History Channel. He has delivered scientific papers dealing with his discoveries in Maya technologies at international engineering and archaeological symposia and presented his discoveries to the Explorers Club in New York City. His explorations and discoveries of Maya technology have been documented in his book, The Lost Secrets of Maya Technology.