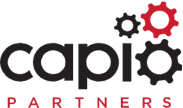 Duluth, GA (PRWEB) December 17, 2012
Capio Partners, LLC and ClearPath Wealth Management are proud to announce a new funding agreement between their two companies. Through the agreement, ClearPath has become Capio's exclusive funder for their healthcare portfolio acquisitions.
"ClearPath, along with their investors, have strong ties to the healthcare/hospital community. Due to their experience, they have a deep understanding of the value we bring to healthcare providers, which made for an ideal fit for us", said Mark Detrick, CFO & Sr. Partner of Capio.
Patrick Churchville, President of ClearPath added, "The opportunity to work with a recognized leader in healthcare financial services is one that we are extremely excited about. Capio's Complaintless Collections™ culture ties in nicely with our mission and core philosophy".
There were strong synergies between the two companies from the earliest dialogue and both are extremely excited over continuing the momentum Capio has built in bringing the bad debt sale model into the healthcare revenue cycle mainstream.
Contact: Mark V. Detrick, CFO (404) 405-7115
About Capio Partners, LLC:
Capio Partners, LLC is the largest healthcare debt buyer in the USA, providing an additional revenue stream to hospitals, healthcare systems, ambulance companies and physician's groups. As the pioneers of Complaintless Collections™, Capio coordinates the hospital's patient-centered culture with its fiscal need for a profitable and predictable cash flow. With their partners' 40-year track record in the healthcare receivables industry, Capio delivers results while keeping hospitals compliant with CMS Regulations. Capio Partners is headquartered in Duluth, Georgia with operations in Sherman, Texas. For more information, please visit: http://www.complaintless.com
About ClearPath Wealth Management:
ClearPath Wealth Management is a private investment firm dedicated to serving the financial needs of a select number of wealthy individuals, families and institutions.
ClearPath's mission is to provide clients access to investments, funds and managers that would normally be out of their reach - either due to high minimum investments, limited availability or lack of connectivity. ClearPath is headquartered in Providence, Rhode Island. For more information, please visit: http://www.clearpathwealth.com